Wendy's Is Giving Out Free Frosties With Every Drive-Thru Order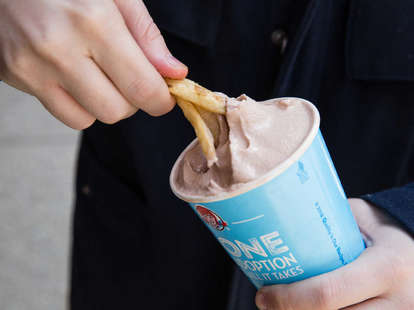 Cole Saladino/Thrillist
Cole Saladino/Thrillist
Name one Wendy's meal that doesn't go well with a Frosty. You can't. There's even science behind why dipping your fries into the soft serve-like dessert tastes so good. And now, you can get a free Frosty when you hit up you local Wendy's drive-thru as you practice social distancing.
The square burger purveyor announced on Monday that it's offering a free Jr. Frosty with every drive-thru order, making it even easier to test the fry-dipping theory.
As always, the dessert comes in two flavors: Vanilla and Classic Chocolate. A Jr. Frosty typically costs around 80 cents. That is 80 cents you can put towards, say, the Sims 4, which is currently only $5, or 80 cents you can throw in the air and catch after you run out of board games in your apartment while staying away from other humans.
If you aren't keen on the drive-thru, keep in mind that Wendy's is currently offering free delivery. On March 17, the company put out a statement saying all company-owned locations will no longer permit customers to sit in dining rooms, and it encouraged franchisees to do the same. Any location currently in a state of emergency has shifted to carryout, pickup, delivery, and drive-thru only.
Sign up here for our daily Thrillist email and subscribe here for our YouTube channel to get your fix of the best in food/drink/fun.