Wendy's Is Giving Away Free Kid's Meals Right Now
Picking up some Wendy's? They'll throw in a kid's meal on the house.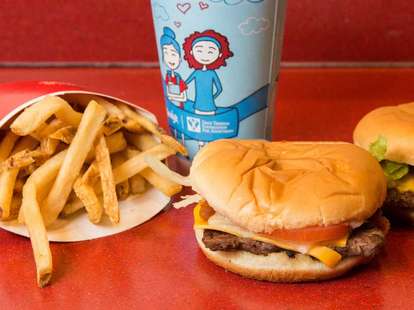 Though I've got zero personal experience myself, parenting seems like quite the project. You're not only tasked with keeping these little humans alive, but also raising them into honest, productive members of society. Woof. With all that responsibility, the very least you deserve is a break from slaving over the stove -- especially while in relative isolation.
Luckily, Wendy's is giving away free kid's meals with every purchase via the chain's app. And while technically, the promo is to feed your youngsters, you won't get carded upon delivery. Want an adult-sized cheeseburger and a kiddie one for later? You do you, my friend. The meal includes your choice of a hamburger, cheeseburger, 4-piece nuggets, or grilled chicken wrap with one side and a drink.
We don't know how long you can score the freebie -- it's one of those "limited-time only" deals, so your window is likely short. And while you'll have to get something to qualify for the free kid's meal (purchase and registration are both required), you don't have to rack up your cart total unless you're really hungry.
In case you've been, I don't know, living under a rock, the vast majority of restaurants have pivoted to drive-thru, takeout, and delivery-only services, including the pigtailed chain. On March 17, Wendy's announced that all company-owned locations would be temporarily shutting down dining rooms and urging franchisees to do the same.
"COVID-19 is impacting communities in different ways, but the guidance from public health experts has been clear that social distancing is an important and necessary step to take to help minimize spread of the virus," CEO Todd Penegor said in a statement. "To assist with this goal, we want to be proactive, recognizing much is quickly evolving at the country, state/provincial and local levels."
Sign up here for our daily Thrillist email and subscribe here for our YouTube channel to get your fix of the best in food/drink/fun.
Megan Schaltegger is a staff writer at Thrillist.