Wendy's Is Giving Everyone Free Nuggets Today, No Strings Attached
The pigtailed fast food chain is giving out free nuggets just because it loves us *kiss*.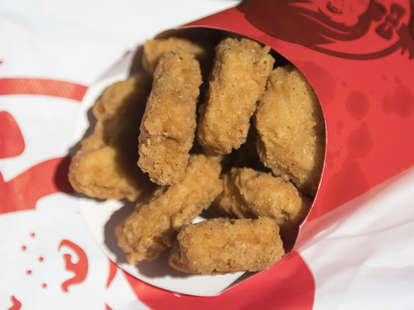 JIM WATSON/AFP/Getty Images
You can rank the best fast-food chicken all you want, but no morsel of poultry -- no matter its breading or seasoning or spice -- can stand against a nugget that is handed to you for free. That means Wendy's gets a spot at the top this week, because the chain that is handing out free 4-piece orders of chicken nuggets today -- Friday, April 24.
There are no sneaky strings attached, by the way. After 10:30am local time, you'll be able to pick up a 4-piece order of spicy or regular crispy nugs at participating locations across the country without ordering a single fry from the menu. All you have to do is ask for nugs at the drive-thru (check out your local Wendy's hours here). We highly recommend asking nicely for the freebie and being extra kind to the person who helps you -- always, but especially in these trying times.
Wendy's chicken nuggets are a fast food staple. They're made with 100% white meat chicken that's breaded and seasoned for a flavorful crunch, but you can eat 'em with one of six dipping sauces (besides ketchup): BBQ, honey mustard, Side of S'Awesome, buttermilk ranch, cream sriracha, or sweet & sour. The spicy nuggets are made much the same way, but with a marinade of hot peppers and spices.
Carl Loredo, Wendy's US chief marketing officer, said the Friday feeding frenzy was inspired by the generous actions of Wendy's restaurants and individual employees across the country.
"These actions shine a light on so many individuals both in Wendy's and across the nation doing good for others," Loredo said in a press release. "We want to show our appreciation with our GroupNug offer for the entire country."
This strange April has been blessed with untold food deals and this promotion is just the latest of many from Wendy's. Now until May 3, for example, you can grab a free Honey Butter Chicken Biscuit with any purchase made through Wendy's mobile app. The chain is also offering free kid's meals. But Wendy's wants you to know that it's more than just a bully to McDonald's on Twitter -- it's your dear friend who cares about you, and to who you don't owe anything but your smiling presence. Other chains -- from Taco Bell to Steak 'n Shake -- have also dangled free food through their drive-thru windows in recent weeks.
By the way, you can check back for other Wendy's deals on the chain's mobile app. A representative for Wendy's told Thrillist that this certainly won't be the last deal we're seeing from the nugget queen.
Sign up here for our daily Thrillist email and subscribe here for our YouTube channel to get your fix of the best in food/drink/fun.