A New Wendy's Deal Gets You Free Nuggets This Weekend
Grab some nuggets on the house.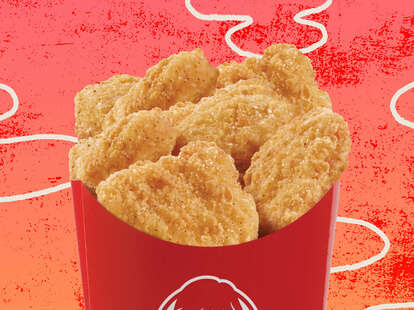 Photo courtesy of Wendy's/Illustration by Thrillist
Photo courtesy of Wendy's/Illustration by Thrillist
The deluge of deals from Wendy's in January continues this weekend. In addition to a wave of weeklong deals and a mess of month-long offers, the chain is serving up a weekend-long discount to get you a little something extra on your next order.
Wendy's will offer a free six-piece order of Nuggets when you grab a medium or large order of fries. If you haven't tried out the new fry recipe yet—it's been quite a while—this is your chance to get a little something extra when you give them a go.
Just place an order through the app for your fries from January 20 to 23, and add the Nuggets from the deal section of the app, and you have basically got yourself a meal.
In addition to that discount, you can also take part in the chain's buy-one-get-one-for-a-dollar deal on chicken sandwiches. Buy a Crispy or Spicy Chicken Sandwich, and the second one will just be a dollar. Then on Monday, it is launching another offer. That one will get you a free Junior Bacon Cheeseburger when you buy some fries through the app from January 23-29. There are a whole lot of ways to get your food through a window this week.