Wendy's is Continuing the Spicy Chicken Nugget Mania with a Free Deal Through Doordash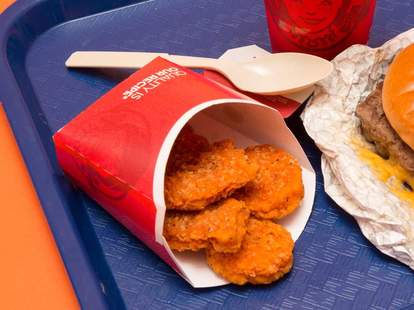 Wendy's is trying to break through the noise of the ongoing chicken sandwich wars by offering a simpler, smaller, spicier chicken alternative: spicy nuggs. After a lot of noise from Chance the Rapper and the fellow spicy chicken fans of Twitter calling for the return of spicy nuggets, Wendy's brought back the beloved menu item and has since been giving away deals left and right for the peppery pieces of chicken.
In partnership with DoorDash, Wendy's is continuing the giveaway of free four-piece spicy nuggets -- and sweetening the deal by handing out free small Sprites, too. To unlock this promotion, all you simply have to do is order Wendy's through DoorDash and use the code 'SPICYSBACK.'
Of course, nothing is life is really ever free, is it? The special deal only qualifies with a minimum purchase of $10. So add on the french fries to complete the meal, throw in a Frosty, and see if Wendy's actually has the best chicken sandwich in the fast food realm as it claimed.
Sign up here for our daily Thrillist email and subscribe here for our YouTube channel to get your fix of the best in food/drink/fun.
Kat Thompson is a staff writer at Thrillist. Follow her on Twitter @katthompsonn.