Wendy's Is Giving Away Free Spicy Chicken Sandwiches For the Next 3 Weeks
Throughout most of May and into June, you're getting a free sandwich with your order.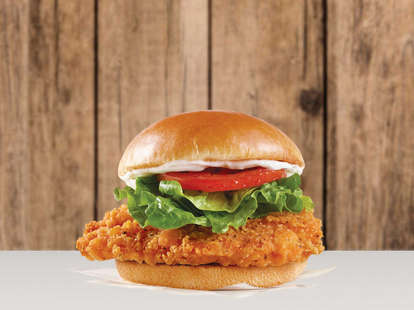 Edited - Courtesy of Wendy's/shutterstock.com
Burgers might not be available at Wendy's in the same quantities as they have in the past, but the chain continues to sling freebies through its mobile app at a rate few people would dare to keep up with.
Earlier this month, Wendy's abruptly ended an offer for a free Dave's Single with a purchase because of beef shortages, but it replaced the deal with an offer for a free Spicy Chicken Sandwich. That deal hasn't even expired yet, and they've extended the deal into June. Make any purchase through the Wendy's mobile app, and you can tack on a free Spicy Chicken Sandwich.
Order a soda? Free sandwich. Some fries? Free sandwich. You get it. You'll be able to redeem that freebie once a week until the offer expires on June 7.
Additionally, inside the app, you'll find offers for a free Breakfast Baconator with any purchase and buy-one-get-one for $1 on Made to Crave Chicken Sandwiches. If you're looking for a way to scratch that Wendy's itch, there more than a couple of ways to make it happen.
Sign up here for our daily Thrillist email and subscribe here for our YouTube channel to get your fix of the best in food/drink/fun.