Get a Free Wendy's Frosty Every Day for a Year When You Give $2 to Charity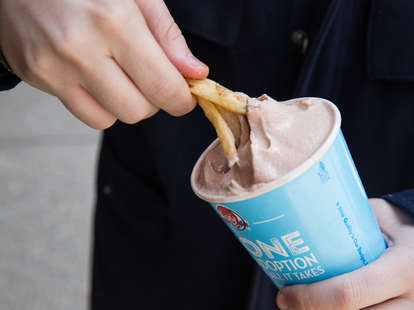 At least one part of your body -- your mouth -- would be all-in on an offer of a free Frosty every day of the year.
That's on offer right now, as it is every year around this time. To benefit the Dave Thomas Foundation for Adoption, Wendy's is offering its $2 Frosty Key Tag. The tag can be clipped onto your key chain and will get you a free Frosty with any purchase every day of 2020. Just flash it when you order, you'll get a knowing nod from the cashier, and boom, Frosty. They're available now through January 31, 2020.
You can get a key tag at any Wendy's restaurant or online. It's a pretty sweet deal for just $2. Plus, 85% of the proceeds will go to the Dave Thomas Foundation. So you can fill up on Frostys, the perfect dipping sauce for those salty fries, and feel good about yourself because you basically just donated to charity, even if you really did it because, you know, free Frostys.
The donation will help the Dave Thomas Foundation for Adoption help children waiting in foster care find a forever home. It's such a good deal and cause combination that you might even feel includined to get in the spirit and throw a few extra dollars their way. Then that full year of Frostys will taste extra delicious.
Sign up here for our daily Thrillist email and subscribe here for our YouTube channel to get your fix of the best in food/drink/fun.