Wendy's Brutally Owned IHOP on Twitter After Changing Its Name to 'IHOb'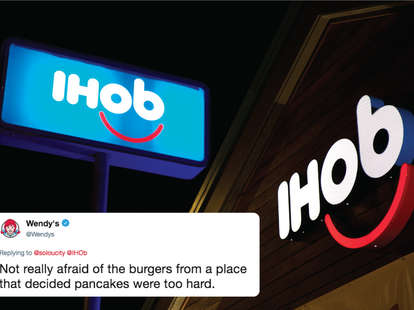 IHOP/Twitter.com/Wendys
IHOP/Twitter.com/Wendys
Finally, after days of speculation, IHOP revealed why it's changing its name to IHOb (spoiler: the "b" stands for burgers) on Monday, and it was all a bit disappointing, to say the least. Still, the iconic breakfast chain's foray into the burger space had a few people on Twitter wondering how other beef patty-centric fast food chains were reacting to the news.
As you might expect, Wendy's was quick to weigh in, which it did by delivering a scorching social media burn, as the brand is wont to do.
The beloved chain, which has earned quite a knack for serving up seriouslyhilarious snark on social media, summed up their reaction pretty succinctly: they're not threatened in the least. In fact, the pig-tailed burger chain seemingly poked fun at IHOP's big IHOb stunt by comparing it to one big childish gamble. It also suggested that the longtime breakfast purveyor's decision to dip its toe into the burger scene is due to the fact that it found pancakes to be "too hard."
Ouch.
The IHOP (err... IHOb) Twitter account has since peacefully responded by making it pretty clear they aren't in the mood for a fight, to which Wendy's playfully replied with a winking emoji. It was all in good fun.
Then again, it's probably wise for IHOb not to engage with Wendy's in this type of setting, since they've earned a reputation for torching just about any fast food brand that dares come back at them on Twitter.
In any case, whoever is running Wendy's social media is crushing it (and probably deserves a raise).
Sign up here for our daily Thrillist email and subscribe here for our YouTube channel to get your fix of the best in food/drink/fun.