Wendy's New Spicy Sriracha Chicken Sandwich Looks Absolutely Delicious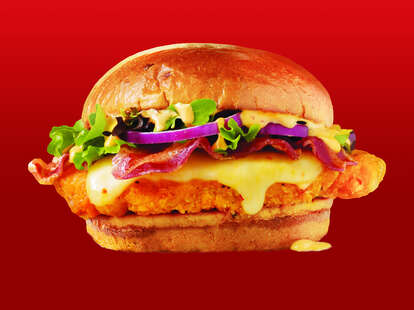 In just a few short years, Sriracha went from everyone's red-hot food obsession to, well, just another condiment. And yet, it seems like fast food chains are going all-in on the spicy red stuff now in hopes of making it cool again. The latest example: Wendy's new Spicy Sriracha Chicken Sandwich.
Think of Wendy's regular Spicy Chicken sandwich, but loaded with Sriracha flavor from the bun up -- literally. Wendy's said the sandwich is made with a Sriracha-infused bun, a dollop of Sriracha aioli for added chili-garlic flavor, and a custom Sriracha Jack cheese, along with applewood smoked bacon, lettuce, onions, and the chain's Spicy Chicken filet. And if that's not enough Sriracha for you, then 1) you can also order the new Bacon Sriracha Fries, too, and 2) you're a maniac, settle down.
A spokesperson for the square-shaped burger maker said both the fiery new sandwich and the matching fries are already available at Wendy's restaurants nationwide, for a limited time. The new menu items arrive just weeks after McDonald's announced that it's changing up the longtime Big Mac recipe with, you guessed it, Sriracha. Interesting, right?
But, really, who cares about the larger food trend implications here -- the most important thing is that you now have more spicy fast food options than before. Hell yes.
Sign up here for our daily Thrillist email, and get your fix of the best in food/drink/fun.
Tony Merevick is Cities News Editor at Thrillist and his mouth is on fire just from looking at this thing. Send news tips to news@thrillist.com and follow him on Twitter @tonymerevick.