Wendy's Was Actually Nice for Once and Made a New Best Friend on Twitter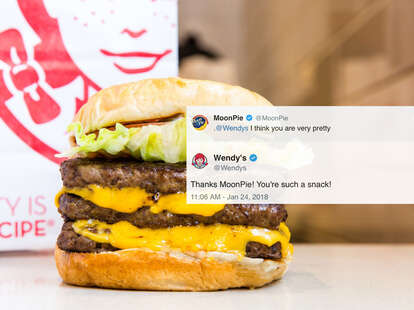 Edited - Cole Saladino/Thrillist
As an informed citizen, you know that Wendy's and MoonPie are the two funniest brand accounts in all of Twitterland. Their approaches are different, but they're equally hilarious. Wendy's tends to "roast" (read: viciously bully) brands and strangers. MoonPie drifts into the surreal with an approach that's hard to imagine another company signing off on, and we salute them for it. Wendy's social team has actually said that MoonPie is its favorite Twitter account.
Lucky for us, we were just treated to a King Kong vs Godzilla meeting of these two social media monsters, except the monsters were, well, kind of sweet to each other. It started with a compliment and ended with a weird yet endearing image of a faceless Wendy MoonPie with a bite out of her head.
It was beautiful.
Sign up here for our daily Thrillist email and subscribe here for our YouTube channel to get your fix of the best in food/drink/fun.


James Chrisman is a News Writer at Thrillist who is waiting to find the MoonPie to his Wendy's. Send news tips to news@thrillist.com and follow him on Twitter @james_chrisman2.