Wendy's Just Revealed 7 Cities Where You Can Still Get Spicy Chicken Nuggets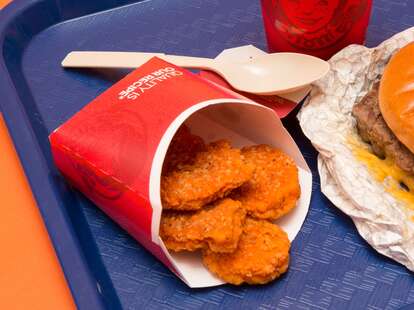 Cole Saladino/Thrillist
Cole Saladino/Thrillist
Wendy's rattled the fast food-eating world -- and maybe your lunch plans -- last week, when it confirmed reports that it had quietly removed Spicy Chicken Nuggets from its menu nationwide. But thankfully, it turns out you may still be able to dunk the fiery nuggets into you Frosty after all. If you're in the right place, that is.
The pig-tailed fast food chain published a "break-up letter" addressed to its devastated fans this weekend, saying the decision to phase out the beloved spicy nuggets was -- get this -- due to their lack of popularity in some places, not because of "anything they (the nuggets) did." As Wendy's put it, simply, "not everyone loved our Spicy Nuggets as much as you did." But the heartbreaking letter also included a nugget (sorry, we had to) of good news: the Spicy Chicken Nuggets will remain on Wendy's menus in seven US cities.
Here's the full list:
Austin, Texas
Dallas, Texas
Waco, Texas
St. Louis, Missouri
Chicago, Illinois
Madison, Wisconsin
Milwaukee, Wisconsin
That's it -- at least, for now. Wendy's went on to tease the idea that the nuggets will return to menus nationwide someday, saying, "Stranger things have happened. Remember last year when we brought back Taco Salad after its 20-something-year disappearance?" But, then again, pointing to the two decade-long wait for the Taco Salad to come back isn't very reassuring...
Before now, Wendy's would only say the nuggets would remain on menus in "select cities" and recommended people order alternatives like the classic Spicy Chicken Sandwich. So, while the list of specific cities isn't much, it's at least something you can cling to while you fail to get over the tragic fast food break up. Good luck.
Sign up here for our daily Thrillist email, and get your fix of the best in food/drink/fun.
Tony Merevick is Cities News Editor at Thrillist and has always enjoyed the spicy chicken sandwich. Send news tips to news@thrillist.com and follow him on Twitter @tonymerevick.