Wendy's Is Giving Out Free Orders of Spicy Chicken Nuggets to Celebrate Their Return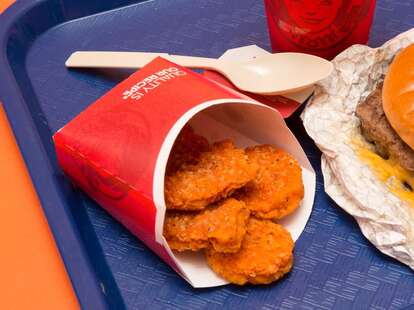 Cole Saladino/Thrillist
Cole Saladino/Thrillist
Someone call Chance the Rapper because Wendy's spicy chicken nuggets are officially back. Even better? Wendy's is giving out free 6-piece orders of the cult-loved nuggets for at least the whole next week.
How to Get Free Spicy Nuggets at Wendy's
Now that the spicy nuggs are officially back, there are two ways you can get them for free. The first way is to download the Wendy's mobile app, find the free nuggets deal in the "offers" section, and redeem it by placing an order through the app. There's no promo code you have to enter -- just tap into the deal and hit the "use in mobile order" button. You can pick your nuggets up or have them delivered if Wendy's delivers in your area. This deal expires on September 1, according to the app's fine print, so you've got some time to plan out your spicy lunch.
The other way to score free nuggets is via DoorDash. Open the DoorDash mobile app, add a 6-piece order of spicy nuggets to your card, then add the code "SPICYNUGGS" on the checkout screen. You don't have to buy anything else, but you'll still have to pay delivery and service fees, plus tax. It's a bit of a catch unless you're already planning on ordering Wendy's on DoorDash and wouldn't mind some nuggets on the side. The deal only runs for a limited time, however, so make sure you snag your free nuggets between August 12-19 and realize that the power of social media can accomplish anything.
From what we can tell, there's nothing stopping you from taking advantage of both spicy nugget deals if you're near a Wendy's that accepts mobile orders and offers delivery via DoorDash. Hell yeah.
The hot nugget news comes after the months-long campaign from Chance the Rapper and fellow fans of the spicy entree calling on Wendy's to bring back the coveted menu item.
"Thanks to our incredible Wendy's fanbase, Spicy Nuggets are back," Carl Loredo, Wendy's chief marketing officer, said in a statement. "We knew we needed to reward fans who helped make this possible in a big way. So, we said, 'We got 2 million likes, let's give away 2 million nuggets.'"
h/t: Chew Boom
Sign up here for our daily Thrillist email and subscribe here for our YouTube channel to get your fix of the best in food/drink/fun.
Kat Thompson is a staff writer at Thrillist. Follow her on Twitter @katthompsonn.