Wendy's Pithy Twitter Account Just Got a Savage Taste of Its Own Medicine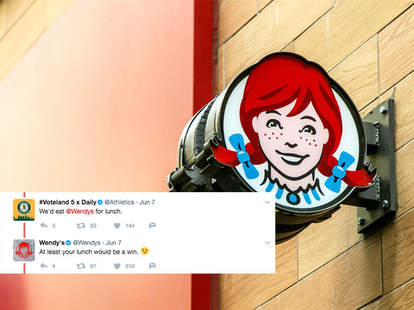 Wendy's Twitter account is known for saucy replies and a willingness to get into spats over next to nothing. Earlier this year, the account burned Hardee's so bad it was blocked by its fast food rival. Then Wendy's helped a teen get the most retweeted tweet of all-time. And it occasionally just hangs around burning and embarrassing burger munchers because this is a marketing plan in the modern world.
However, a recent tussle had the burger chain on the receiving end of clap back. One tweeter inquired who would win a battle between the Oakland Athletics and Wendy's on Twitter. The A's offered a little wordplay, suggesting it'd "eat @Wendys for lunch." Wendy's went for a burn of its own, but the whole thing backfired beautifully.
Twitter Screengrab
The A's won that round with a self-deprecating joke that took down the reigning Twitter pith champs. Wendy's obviously felt the heat because it tried to turn the tables, but the A's account brought its... uh... A game.
Twitter Screengrab
The whole thing was undoubtedly in good fun. And it must feel nice for the A's to get a "W" somewhere, with things looking awfully bleak in the West Division's basement.
Sign up here for our daily Thrillist email, and get your fix of the best in food/drink/fun.
Dustin Nelson is a News Writer with Thrillist. He holds a Guinness World Record but has never met the fingernail lady. Follow him @dlukenelson.