Wendy's Burns McDonald's Over Its Black Friday Twitter Fail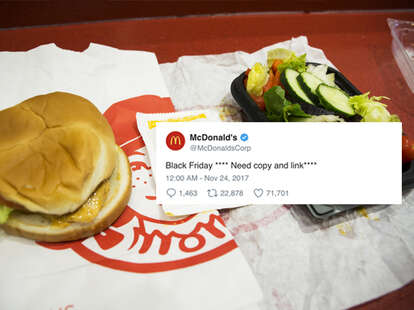 Laura Murray | Thrillist Media Group
Laura Murray | Thrillist Media Group
With a little time off on the horizon, someone on the McDonald's social media team may have made a little mistake. It was one of those little details that can easily get lost in the shuffle while you check traffic to Aunt Patti's house. For Black Friday, McDonald's tweeted out "Black Friday **** Need copy and link****."
Whoops.
Despite offering free Frostys for a year to raise money for charity, Wendy's overriding tone is mean.
Like McDonald's own tweet, the Wendy's jab struck a chord, getting retweeted more than 280,000 times. (McDonald's is just over 22,000.) Wendy's was so proud it gave itself a little back pat while referencing the #NuggsForCarter campaign.
Wendy's even spent a little time on an off-day mirthfully adding secondary burns in the replies.
Point made. Even holidays won't deter the team behind Wendy's merciless Twitter account.
Sign up here for our daily Thrillist email, and get your fix of the best in food/drink/fun.
Dustin Nelson is a News Writer with Thrillist. He holds a Guinness World Record but has never met the fingernail lady. Follow him @dlukenelson.