Wendy's Unleashed Some Savage Tweets After Steak N Shake Tried to Start a Fight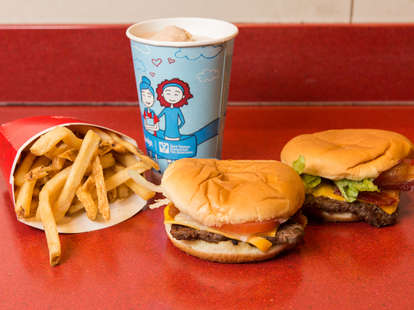 Cole Saladino/Thrillist
Cole Saladino/Thrillist
Wendy's has made itself synonymous with Twitter snark. It's more than willing to drag customers or, more often, to start a semi-friendly beef with another fast food establishment. Now and then someone gets the best of Wendy's, but for the most part, starting a flame war on Twitter with Wendy's is a losing endeavor.
Maybe that's what Steak N Shake was thinking when it tweeted about Wendy's but decided not to tag it in the tweet.
Of course, that wasn't going to slide past Wendy's unnoticed, despite the lack of a tag.
That could have gone worse. However, Steak N Shake tried to get the better square patty purveyor and may have bitten off more than it could chew.
In the end, Wendy's got the last word when it burned the steakburger chain's paltry following compared to Wendy's 4.64 million followers. "Admit it, you were busy reacting to having a tweet get more than 100 likes," Wendy's said. Steak N Shake didn't offer another reply after that.
As is often the case when Wendy's drops a solid burn, it spent a little while high-fiving fans of its fast food insults.
It also dropped the required "listed to my Soundcloud" follow-up tweet.
Sign up here for our daily Thrillist email and subscribe here for our YouTube channel to get your fix of the best in food/drink/fun.

Dustin Nelson is a News Writer with Thrillist. He holds a Guinness World Record but has never met the fingernail lady. Follow him @dlukenelson.