Wendy's Burned This Guy For His Fast Food Hack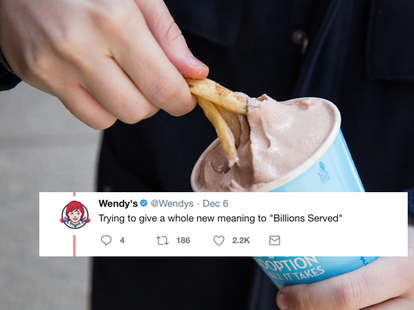 Cole Saladino/Thrillist | Twitter
Cole Saladino/Thrillist | Twitter
Nary a day goes by without Wendy's saying "dracarys" and flame-grillingsomeone on Twitter. The latest casualty was an innocent bystander, just a small fries in the ongoing beef between McDonald's and the pigtails. And, this time, Wendy's went low.
Twitter user @canceric shared a photo earlier in the week of his McDonald's takeout staying warm on a heated seat. It's not clear how effective the idea is, but it's a pretty solid idea. Others agreed to the tune of more than 24,000 retweets.
Since he was eating McDonald's, Wendy's had to go in for the kill. The original tweet was dedicated to "every person who ever thought I would fail." Wendy's didn't allow for his fast food hack to be redemptive and told him he failed anyway, which was harsh.
As this often goes, Wendy's had to pat itself on the back and continue serving meaty burns in the replies.
Whoever was running the account at that time also outed themselves as a Game of Thrones fan in the replies. (Earlier in the week, Wendy's also talked TV when the account had a solid take on whether or not Twin Peaks: The Return is a movie or a TV show.)
If this is the kind of thing that makes you hungry, you're in luck. You can still get the unlimited Frosty tag for just $2, and the chain is doling out BOGO burgers through its new app.
Sign up here for our daily Thrillist email, and get your fix of the best in food/drink/fun.
Dustin Nelson is a News Writer with Thrillist. He holds a Guinness World Record but has never met the fingernail lady. Follow him @dlukenelson.