Whale Dies With 17 Pounds of Plastic Bags in Its Stomach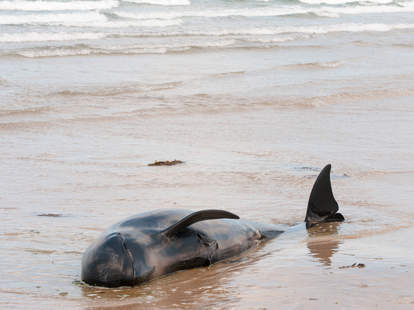 Most of us recycle when it's convenient, but that's about it. Maybe that's because it can all seem a little abstract when you're just going about your day, and sometimes we need something more concrete to remind us that our actions have consequences. Like the horrifying amount of plastic found in a pilot whale's stomach last week.
When an autopsy was performed on a male pilot whale in Thailand, 17 pounds of plastic bags were found in its stomach. A team of rescuers had been trying to keep it alive for five days, but on Friday the whale died and the 80 plastic bags were discovered, according to a report by The Washington Post.
Pilot whales general eat squid, but it's likely the whale "mistook the floating plastic for food." The mass of plastic then prevented the whale from ingesting anything that would provide nourishment.
"If you have 80 plastic bags in your stomach, you die," Thon Thamrongnawasawat, a marine biologist and lecturer at Kasetsart University, told Agence France-Presse. 
The rescue team kept the pilot whale -- which vomited up a total of five plastic bags -- on the beach with buoys to prevent it from sliding further into the sea and drowning. In what might be the most disturbing deal of a disturbing story, it was reported that there were "so many long black plastic bags that authorities were running out of room to maneuver in the operating room without standing on trash."
Thon Thamrongnawasawat also told AFP that 300 marine animals -- including "pilot whales, sea turtles and dolphins" -- a year die in Thai waters after consuming plastic. There are an estimated 5 trillion pieces of trash in the world's oceans, per the Post.
So, start recycling.
h/t Gizmodo, Washington Post
Sign up here for our daily Thrillist email and subscribe here for our YouTube channel to get your fix of the best in food/drink/fun.