You Get Free Hershey's Candy Bars Every Time Team USA Wins Gold at the Olympics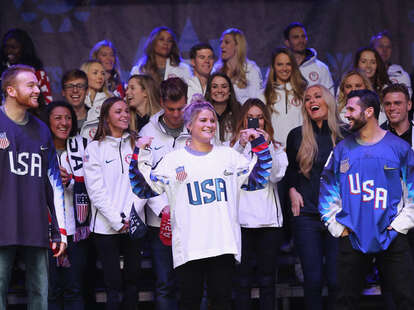 ELSA/GETTY IMAGES FOR USOC
For the next two-plus weeks, Winter Olympics madness will descend on the United States. (Here's how to watch the Olympics.) The Games are underway in PyeongChang, South Korea and the opening ceremony will be here Friday.
To celebrate, Hershey's has released a new candy called the Hershey's Gold Bar and when Team USA lands gold, you can land free gold candy.
Starting February 9, every time the US wins a gold medal (up to 15) during the 2018 Winter Olympics or the 2018 Winter Paralympics, the company will start a giveaway period with a post on Twitter and Facebook.
The first 10,000 people who click the link in each post will get a coupon for $1.50 off a Hershey's Gold, which means you're getting one gratis. That's each post, so there could be up to 150,000 free candy bars doled out on account of folks like Nathan Chen, Mikaela Shiffrin, and Shaun White. Coupons are given out on a first-come-first-serve basis, and each person can win a maximum of one bar. (So, Gary, stop making plans to eat every candy bar west of the Mississippi.)
What Is Hershey's Gold?
Hershey's is best known for its milk chocolate bars, but the Gold bar is a whole new deal. In fact, it's the company's first new flavor in more than 20 years. The Gold bar contains carmelized creme candy with big chunks of peanuts and pretzels. If you're a fan of salty and sweet treats, this might be your song.
Sign up here for our daily Thrillist email, and get your fix of the best in food/drink/fun.
Dustin Nelson is a News Writer with Thrillist. He holds a Guinness World Record but has never met the fingernail lady. Follow him @dlukenelson.