A 'Major Asshole' Quote and More Fun From the Secret History of Labor Day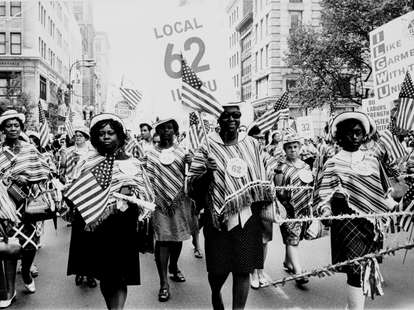 International Ladies Garment Workers Union Local 62 marches in a Labor Day parade

| Kheel Center/Flickr
International Ladies Garment Workers Union Local 62 marches in a Labor Day parade

| Kheel Center/Flickr
You've worked hard all year, and dammit, you deserve the three solid days of backyard grilling and Labor Day cocktails ahead of you. As Aristotle put it: "The end of labor is to gain leisure." To that end, we've compiled the secret history of how Labor Day came to celebrate doing your very best to avoid labor. Break any of these factoids out between drinks.
Labor Day was a radical idea for its time and wasn't warmly received.
Taking a day off work seems like a no-brainer now, but in the 1880s trade unions and rabble-rousing workers' rights groups were the upstarts. Organizations like the Central Labor Union of New York espoused Marxist politics and integrated black workers into their ranks -- not so simple a matter less than 20 years after the Civil War. When they held the very first Labor Day Parade on Tuesday, September 5, 1882, The New York Tribune didn't restrain its condescension. "There was nothing in the appearance of the men to indicate that they were suffering for good clothes or were weak from long famishing," it wrote, capping the piece by calling it, "so palpably a political organization that even the least intelligent and thinking man in the parade must have discovered it by this time." At this point it was still a work day, and the workers involved lost $75,000 in wages for the day.
That first parade was held in Union Square, New York City, and would be for decades to come.
But despite its name, Union Square has little else to do with unions -- originally named Union Place in 1815 after the intersection of Bloomingdale Road (aka Broadway) and the Bowery. Nonetheless, it's been a hotbed for protest for both labor movements and other activist organizations and remains so to this day.
Labor Day was officially recognized to ease labor unrest and prevent further violence.
In the years that followed the 1882 parade, Labor Days began cropping up around the country, in tandem with the general workers movement. Some states and municipalities recognized the Labor Days as public holidays with Oregon leading the charge in 1887. But it was incidents like the Haymarket affair and, a decade later, the Pullman strike of 1894 that galvanized politicians into action. After President Grover Clevelend sent federal troops to Chicago to crush the strike, dozens of people ultimately died. AH Raskin, the New York Times' chief labor correspondent once described the event as "what most experts now agree was the most flagrant act of strikebreaking by injunction in the nation's history." President Cleveland made Labor Day an official national holiday in the aftermath, but was still not re-elected that year.
The "Father of Labor Day" is a matter of some debate.
For decades historians agreed that the man behind the myth of Labor Day was Peter J. McGuire, general secretary of the Brotherhood of Carpenters, and a cofounder of the American Federation of Labor along with the legendary Samuel Gompers. But evidence later uncovered by the New Jersey Historical Society contends that another guy -- Matthew Maguire -- first came up with the idea in 1882. Published in 1983, a history of the union, The United Brotherhood of the Carpenters: The First Hundred Years, expressed the gravity of the dispute: "To the United Brotherhood, of course, denying McGuire's paternity was akin to blasphemy." To date, the Department of Labor is open to the possibility.
All politics aside, the phrase "no white after Labor Day," came from the upper crust.
In the early 20th century, as Labor Day came to signal the unofficial end of summer, it made sense for individuals with means to wear breezy, comfortable, white or light-colored cottons in the warmer months. Once Labor Day rolled around, the conventional wisdom was to pack in your summer clothing and prepare for fall and winter pieces that could withstand rain and slush. Of course this cliche seems to have morphed (evolved? devolved?) into more of an old meme than a fashion maxim. "If you look at fashion magazines like Vogue and everything, every other year they run a feature on how you can wear white after Labor Day," Dr. Karin J. Bohleke, director of the Fashion Archives and Museum of Shippensburg University, told PennLive.com last year. "It's like the only way they keep this discussion alive is by continually running that feature." The solution? Stop stressing out over what you were. Wear what you like. Wash it after. Easy. Done.
In modern times, some pretty funny videos come out of Labor Day.
Folks tend to party pretty hard! There's nothing wrong with partying. Just do so responsibly, because remember...
Labor Day is still one of the deadliest days of the year.
In 2008, Forbes ranked it second-deadliest behind Thanksgiving for total number of traffic fatalities in the United states. As of 2013, it was the fourth-deadliest. Thankfully, the number of people getting hurt or worse on the holidays is going down across the country.
And Labor Day may have been started by socialists, but modern conservatives are happy to celebrate Labor Day, too -- and use it to call people "major league assholes."
Once a holiday's entrenched in the public consciousness, there's no reason not to use it politically. In separate speeches in both his 1980 and 1984 election campaigns, Ronald Reagan used Labor Day to invoke the iconic slogan "Make America Great Again." (We all know where that wound up.) And back when he was just an apple in the presidential eagle's eye, George W. Bush straight-up called New York Times reporter Adam Clymer a "major league asshole" and refused to apologize.
At the time, Bush's opponent, Al Gore, remarked: "I want to thank the working press corps who are working on Labor Day."
Eric Vilas-Boas would like to wish his dear ol' dad -- the hardest worker he knows -- a happy 60th birthday this year. His birthday, September 3, often falls on Labor Day. Send any birthday tweets to him here.