This 'Be Like Bill!' Meme Says More About You Than You Think
Over the weekend, two blizzards came caterwauling through town: Winter Storm Jonas, which dumped a ton of snow on everyone; and this "Be Like Bill!" meme, which dumped a ton of stupidity on everyone's Facebook feeds.
By now, you've likely seen the meme, courtesy of the website Blobla.com. It's the Internet equivalent of a syndicated horoscope; you enter your name and gender into the "Be Like Bill!" generator, and a few seconds later, you have a Rorschach flapdoodle describing you and what makes you superior. The examples are many.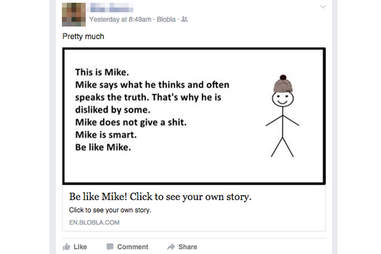 The genesis and creator behind "Be Like Bill!" prove difficult to track down. Blobla appears to be run out of Asia, with its site defaulting to Vietnamese. The web domain is privately registered, so no further details were available as to its registrant.
The meme began proliferating around October 2015, with iterations popping up in several languages, according to Know Your Meme.
Thrillist reached out to Blobla via the company's listed email address Sunday, but received no comment as of Monday morning.
Anecdotally, Blobla's Facebook paged garnered in excess of 20,000 Facebook likes in about 12 hours overnight Sunday into Monday morning. As of this article's publishing, it had around 105,000 Facebook likes, with an "about" section that describes the site as "Enjoy and share the hottest contents on the Internet." Riveting stuff.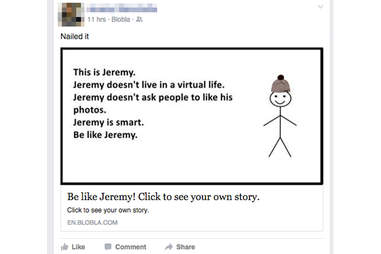 Few lessons can be learned from the latest Internet meme, aside from the fact that casual Internet users continue to love to hear and share any Jabberwocky that makes them feel good about themselves.
And on the flip, more cynical Internet users immediately parody and demean any such Jabberwocky, dividing the meme into camps of those who accept it as being cute in earnest, and those who tear it down in revulsion. In fact, a subreddit already launched around the meme, and countless parodies filled social media by noon on Monday.
 
The site does not appear to access your Facebook data in any harmful way, so in essence, it is nothing more than a blip in the viral landscape.
Just consider: when you gaze long into a meme, the meme also gazes into you.

Sign up here for our daily Thrillist email, and get your fix of the best in food/drink/fun.
Ryan Craggs is Thrillist's Senior News Editor. He has never met an Internet meme he didn't want to make fun of. Follow him @ryanrcraggs.