Here's Where the Next 5 Super Bowls Will Be Held
Where you can go to see the big game when stadiums can once again be full of screaming fans.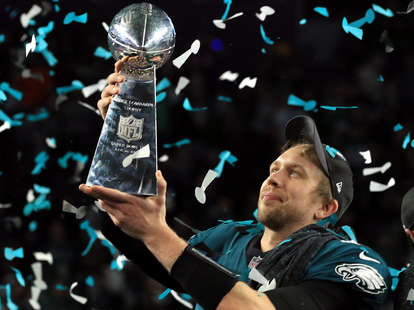 GETTY IMAGES/Mike Ehrmann/Staff
GETTY IMAGES/Mike Ehrmann/Staff
Super Bowl LVI will get back toward something resembling Super Bowls of the past after last year's had a limited capacity due to the coronavirus pandemic. Three of the four remaining teams are led by young quarterbacks in Patrick Mahomes, Joe Burrow, and Jimmy Garoppolo, who is relatively young compared to other favorites to get there like Aaron Rodgers, Tom Brady, and Matthew Stafford, whose Rams are still in the hunt.
Recent hosts Atlanta and Minneapolis provide a clear model for how to land a Super Bowl. It's simple. Build a new stadium or make significant improvements to the existing one. (Hard Rock Stadium finished significant renovations in 2016.) The lineup of future Super Bowl hosts features some of the newest and most recently renovated stadiums in the NFL.
Here's where you'll be seeing Super Bowl games played over the next handful of seasons, along with the tentative dates.
Super Bowl LVI on Sunday, February 13, 2022 - SoFi Stadium; Inglewood, California
Super Bowl LVII on Sunday, February 12, 2023 - State Farm Stadium; Glendale, Arizona
Super Bowl LVIII in 2024 - Allegiant Stadium; Las Vegas, Nevada
Super Bowl LIX in 2025 - Caesars Superdome; New Orleans, Louisiana
The dates for Super Bowl LVI and LVII have been bumped back a week from the original announcements due to the addition of an extra week in the NFL season. New Orleans was originally scheduled to hold the 2024 game, but due to conflicts with Mardi Gras, that has been moved to 2025.
US Bank Stadium in Minneapolis held the championship in its second year of use (2018). That was the same situation for Atlanta's Mercedes-Benz stadium in 2019. That stadium opened in the fall of 2017. SoFi Stadium opened this year. Meanwhile, Hard Rock Stadium underwent a $250 million renovation in 2016 and the Ray Jay in Tampa had a $100 million project greenlit in 2015. Spend the money and the Super Bowl will come, it would seem.