Amazon's Hinting at More NES Classic Editions Being in Stock Soon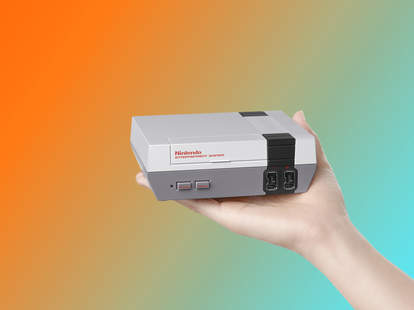 Despite flash sales from Walmart and most recently, Urban Outfitters, it remains damn-near impossible to get your hands on Nintendo's nostalgia-inducing NES Classic Edition console since it launched -- and promptly sold out everywhere -- last month. But now, it looks like you may have a chance at finally nabbing one before the holidays, thanks to Amazon.
Amazon dropped a huge tease involving the miniature game system via its Amazon Video Games Twitter account on Tuesday, potentially hinting that it may soon have it back in stock:
Of course, "a couple exciting announcements" is frustratingly vague, but c'mon what the hell else could the company be hinting a given the insane demand for the damn things and the ongoing shortage of supply? Well, it turns out Amazon isn't ready to say. When reached via email on Wednesday, a spokesperson said, "We have nothing more to share beyond that tweet. Stay tuned!"
Sorry, folks. We tried.
All said, you might not want to get your hopes up too much just yet. Even if Amazon does offer a stock of NES Classic Editions for sale, there's a good chance they may sell out before you can get one. But that's no reason to give up. As they said in the '90s, "It's on like Donkey Kong."
UPDATE - December 8, 2016 - 11:30am
Amazon has finally announced an NES Classic Edition flash sale, but it's only for the company's book stores in Seattle, Portland, and San Diego. Unfortunately, there's still no word on whether it will make the game system available for purchase online.
UPDATE - December 8, 2016 - 2pm
Hope remains. Amazon just teased additional plans to sell the NES Classic Edition before the holidays:
Sign up here for our daily Thrillist email, and get your fix of the best in food/drink/fun.
Tony Merevick is Cities News Editor at Thrillist and still has not managed to buy an NES Classic for himself. Send news tips to news@thrillist.com and follow him on Twitter @tonymerevick.