I'm the kind of guy who loves hefty snowfall from Thanksgiving till December 25th, but then literally never outside of that time frame. So the past several years, what with our planet over-heating and all, I've become increasingly nervous that snowfall will skip December and head straight to January through Match -- missing all the Yuletide whimsy and sleigh rides and bells jing-a-ling-aling and ring ting ting-a-ting-aling too and all that.
In what I can only assume to be an effort to help me out personally, the National Oceanic and Atmospheric Administration (or, NOAA) put together a map based on extensive weather data and past trends that showcase where they think snow will fall on Christmas day.
Recommended Video
This Egg Roll Has a Hot Cheetos Wrapper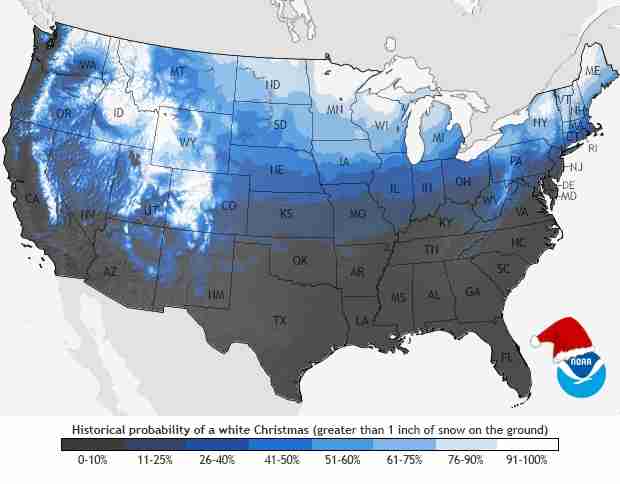 It's all an estimation of course, but the data is based primarily upon "1981-2010 Climate Normals," which are "...NCEI's latest three-decade averages of climatological variables, including temperature and precipitation."
So where are you most likely to get some snowfalls, according to these scientists and their precious data?
"Minnesota. Maine. Upstate New York. The Allegheny Mountains of Pennsylvania and West Virginia. Practically anywhere in Idaho. And of course, the Rockies or the Sierra Nevada Mountains."
Now, if you'll excuse me, I need to call my travel agent and tell her I need accommodations "practically anywhere in Idaho" for my own white Christmas enjoyment. Oh, and Florida: You're screwed (per usual). 

Wil Fulton is a Staff Writer for Thrillist. He obviously would never spend his Christmas in Idaho. Follow him @wilfulton
Sign up here for our daily Thrillist email, and get your fix of the best in food/drink/fun.