If You Want to Make 6 Figures, Apply to One of These Companies Right Now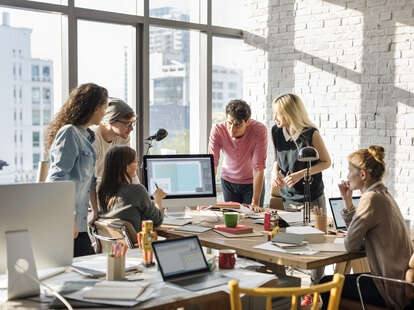 Shutterstock
Shutterstock
It's a damn shame that you need a job, but that's just the way it is. You do, however, have options: Option one, get a job where they let you bring your dog to work and stare into its eyes and lets its purity of spirit rejuvenate you whenever you start to feel like the crushed cog of capitalism that you are. Option two, make a whole bunch of money.
If option two appeals, we recommend perusing this list of the 15 companies with the most jobs paying over $100,000 a year right now. It comes via Ladders, which puts out lists like this all the time, and it will aid you in your quest to win capitalism. Sure, you'll still have to convince these employers that you're worth a six-figure salary, but we (and your dog) believe in you.
Here are the top 15
15. WiproTechnologies
Jobs Available: 855
14. Lockheed Martin
Jobs Available: 869
13. Leidos Holdings
Jobs Available: 869
12. Tata Consultancy
Jobs Available: 893
11. Verizon
Jobs Available: 935
10. Banfield Pet Hospital
Jobs Available: 1,049
9. CVS Health
Jobs Available: 1,125
8. Raytheon
Jobs Available: 1,178
7. HCA
Jobs Available: 1,18
6. Apple
Jobs Available: 1,200
5. Microsoft
Jobs Available: 1,202
4. Facebook
Jobs Available: 1,209
3. Oracle
Jobs Available: 1,283
2. Infosys
Jobs Available: 1,361
1. Amazon
Jobs Available: 1,818
As an informed and enterprising citizen, you're not surprised to hear that there's a bunch of money to be made at companies like Amazon, Apple, Microsoft, and Facebook. As older men repeat like a mantra at every family gathering, there is money in tech. So now that we've got that out of the way, let's talk about the ones that may be less obvious.
No. 2, for instance, is the tech consulting company Infosys, and No. 3 is Oracle, also a tech company, but with openings in data science and sales jobs. Outside of tech, at No. 7 there's HCA, a for-profit operator of healthcare facilities, which has over 1,000 six-figure jobs. CVS Health has a similar number of opportunities, as does Banfield Pet Hospital. If you're not in the mood to help animals, though, you could always work for a defense contractor like Raytheon.
If you'd prefer to live somewhere you like while amassing capital, take a look at this list of cities with the most jobs paying over $100K.
Sign up here for our daily Thrillist email and subscribe here for our YouTube channel to get your fix of the best in food/drink/fun.