These Are the Countries Where the Air is Most Toxic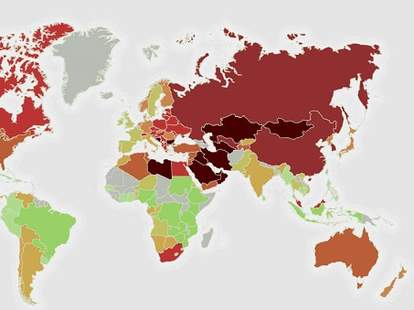 As NASA highlighted early this year, 2016 was the hottest year on record. That has an ever-increasing number of people concerned about pollution and the quality of the world's air.
A new set of maps from The Eco Experts, a solar panel manufacturer, attempts to visualize air quality and pollution across the world by cross-referencing data on energy consumption per capita, carbon dioxide emissions per capita, renewable energy used, existing air pollution, and the number of annual deaths associated with poor air quality. (So, this is not a straightforward map of air pollution being visualized.)
While the Eco Experts have an economic interest in clean energy, the data visualized is not their own. Instead, the data originates from studies by the International Energy Agency and the World Health Organization and is organized into the below visualization. 
Their maps and method highlight Saudi Arabia at the top of the list, in part because they have the highest record air pollution in the world, surpassing China and India. That country and neighboring countries may rank high in part because despite being ideal locations for renewable energy, according to The Eco Experts, they use far less renewable energy sources than many nations making a push in that direction.
On their list, the United States ranks 66th overall (with 1st being the worst). Take a look at all their findings below. It has a perspective, but it's an interesting way to see how pollution impacts different countries across the globe.
Dustin Nelson is a News Writer with Thrillist. He holds a Guinness World Record but has never met the fingernail lady. He's written for Sports Illustrated, Rolling Stone, Men's Journal, The Rumpus, and other digital wonderlands. Follow him @dlukenelson.