When deciding where to move to, you likely research job opportunities, housing, and the general cost of living. But, really, you're leaving out a pretty important part of life: how many pizza places there are. 
Well, real estate website Estately put together a map that shows which states have the most pizza places per capita, and in general, the South leaves a lot of pizza to be desired, while the Northeast is really doing some work.
The state with the least amount of pizza places per capita? Utah, followed by Alabama and Louisiana. Estately noted that although Utah residents have the fewest opportunities to score a pie in the country, they also Google the words "free pizza" more than any other state. So, they still love pizza. They're just deprived. Business opportunity?
The state with the most pizza places per capita is West Virginia, which has "1,553 establishments serving pizza." That comes out to 1 for every 1,210 people, according to Estately's research. Delaware has the second most, and New Jersey came in third. Interestingly, New York didn't even make the top 10.
Take a look at the results in the full map below, and if you live in West Virginia, be thankful for the bounty of pepperoni bestowed upon you. 
Recommended Video
Ghost Kitchen: This NYC Restaurant Chain is Providing Free Catering for Health Care Workers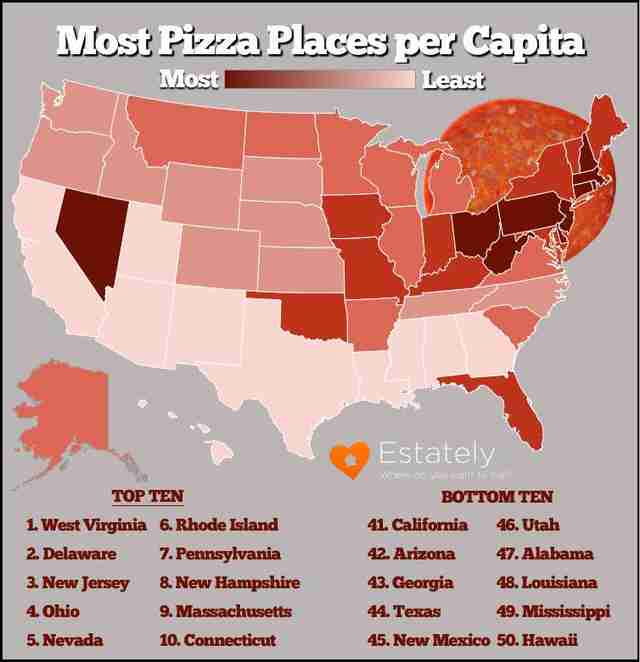 Sign up here for our daily Thrillist email, and get your fix of the best in food/drink/fun.
Kara King is a News Writer at Thrillist and will be eating pizza for lunch. Send news tips to news@thrillist.com and follow her at @karatillie.