This Whiskey Advent Calendar Sold Out Fast Last Year & It's Already Available
It might seem early, but it's now or never on this one.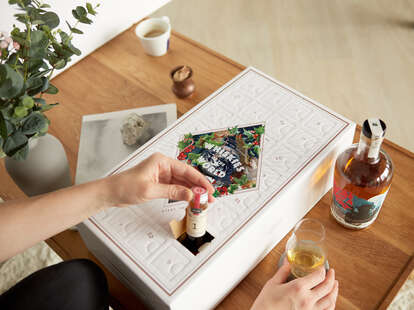 Courtesy of Flaviar
Courtesy of Flaviar
If you feel like pumpkin spice everything has arrived too early, close your eyes. Advent calendars are already being unveiled.
Flaviar's popular Whiskies of the World Advent Calendar has opened up pre-sales on the 2020 edition. Launching advanced sales for an advent calendar in August might seem like overkill (okay, it is), but the box sold out in just a few weeks last year. The brown liquid countdown features 24 drams of whiskey from, as the name implies, all over the world. It'll gift you sips from familiar whiskey hotspots like Scotland, Ireland, the US, Canada, and Japan, as well as a few less expected locations like Italy, Israel, India, and the Netherlands.
With both 2019 editions selling out so fast, Flaviar planned on make more of them this year, a representative tells Thrillist, adding that they've already sold more boxes in the pre-sale than it sold total last year. However, if you're hoping to get an exact idea what you're buying, you'll be left in the lurch. Details on what's under the 24 tiny doors are a little scant because there really ought to be an element of surprise. That's kind of the point of hiding the little drams under cardboard flaps.
Flaviar is a club for "fine spirits enthusiasts," who get quarterly shipments of whiskey at their doorstep. The company knows its way around a good whiskey, but that doesn't come cheap. The box will run you $250, but there's a 10% discount during the pre-sale. Or you can put down a $75 deposit with the rest due in November when Whiskies of the World starts to ship.
It's designed to take you around the world, but also to showcase different flavor profiles. "Variety is the spice of life, and this calendar is filled with premium offerings made from corn, malted barley, wheat and rye and utilizes an array of cask finishes to give different flavor profiles," the announcement says. It won't reveal everything that comes inside, but the few that have been unveiled include "Tennessee's finest Uncle Nearest Bourbon, Kilchoman 2010 Vintage from Islay's farm distillery, and a spectacular Compass Box release, Compass Box Juvenile."
Each of the 24 whiskeys comes in a 1.7-ounce vial. Those are accompanied by a Glencairn whiskey tasting glass, coaster, and a book of tasting notes. Tossing back a fine whiskey nightly sounds like the appropriate way to bid 2020 farewell.
Sign up here for our daily Thrillist email and subscribe here for our YouTube channel to get your fix of the best in food/drink/fun.