You Can Now Get Whiskey in a Capri Sun Pouch
There are few things better than a quality glass of whiskey in the winter. One of those things is having whiskey delivered to your door so you can have a quality glass of whiskey in the winter.
Whisky Me is a new subscription service in the UK. From wine of the month clubs to whiskey advent calendars and specialty boxes like Secret Spirits, booze subscriptions are no longer novel. However, the way this whiskey arrives is novel. The dark nectar arrives in a pouch a la Capri Sun, except it has a twist-off top so you don't spill that sweet whiskey while poking a hole in the side with a straw.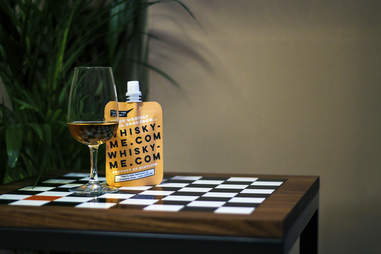 Whisky Me
The subscription costs £7 a month in an annual subscription or £7.95 a month if you pay as you go. For your hard-earned cash, you get a new five-centiliter pouch each month. It's always a single malt whiskey select by Whisky Me founders Thomas Aske and Tristan Stephenson. They're the brains behind London's Black Rock whiskey bar. Their goal with the new project is to allow people "to explore single malt whiskeys with minimal fuss and, importantly, minimal cost, one (large) glass at a time."
You never know what you're getting in the mail, but Whisky Me promises drams from well-known distilleries like Macallan, Royal Lochnagar, and Aberfeldy.
While you can't get a subscription in the US (yet), hopefully, the packaging concept makes its way over. It's a smart way to bring a drink to a party, and it could definitely be done in a more environmentally friendly fashion than glass bottles. Plus, the design is a throwback to your youth, while the contents are your drink of choice.
[h/t Vinepair]
Sign up here for our daily Thrillist email, and get your fix of the best in food/drink/fun.
Dustin Nelson is a News Writer with Thrillist. He holds a Guinness World Record but has never met the fingernail lady. Follow him @dlukenelson.