White Castle's Impossible Slider Is Going Vegan With New Dairy-Free Cheese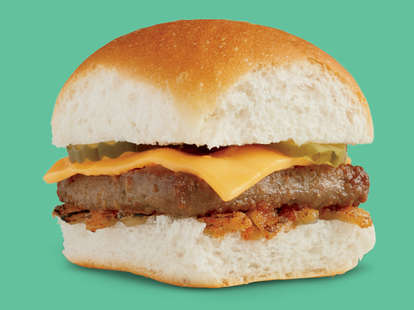 White Castle's plant-based burger, the Impossible Slider, is the best in the business. So good, we recently honored it with a Fastie Award in the Best Plant-Based Burger category. And while this meat-free slider is a good choice for vegetarians or anyone who's seeking an alternative to beef, it wasn't entirely vegan -- until now.
The chain announced this week that it plans to start topping the Impossible Slider with a new, dairy-free cheese replacement. Beginning March 1, the non-dairy cheddar will be available to order on any slider at participating New York and New Jersey locations. Hurrah for our vegan and lactose-challenged friends!
"Our Impossible Slider was an instant Craver favorite, but it's about to get a new dimension with the introduction of dairy-free cheddar," Vice President Jamie Richardson said in a statement. "We are excited to bring this new non-dairy, vegan item to Cravers in the New York and New Jersey areas with the hope of taking it to other markets in the future."
This isn't the first time White Castle has made its commitment to the plant-based movement known. Back in 2015, the burger slinger introduced a vegan patty in collaboration with Dr. Praeger's, officially dubbed the "Veggie Slider," in retail stores. Just last summer, the chain gave its wildly popular Impossible Slider a BBQ-style update for the season. And in case you're wondering, White Castle also updated its bun recipe to make it vegan friendly.
"We're committed to innovation, and we're always looking for ways to do things better and make things better for our loyal customers," Richardson added. "It's exciting to be the fast-food restaurant that's leading the trend in providing plant-based options for consumers."
Sign up here for our daily Thrillist email and subscribe here for our YouTube channel to get your fix of the best in food/drink/fun.
Megan Schaltegger is a staff writer at Thrillist. Follow her @MegSchaltegger.