White Castle Is Giving Us Free Sliders Today for National Slider Day
White Castle is providing the royal treatment this slider holiday season.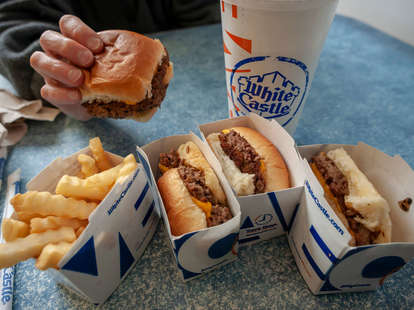 Last year White Castle offered two free BBQ sliders to anyone who came in sporting western apparel on National Slider Day, but that was the Before Times, when sporting a bandana around your nose and mouth inspired only giggles. This year's Slider Day deal looks a little different -- you'll get a free slider without doing anything but pulling up to the drive-thru, and nobody will dare giggle at your COVID-19 bandit attire.
Basically, all ya have to do to get the free slider is present this digital coupon at the drive-thru on Friday, May 15, 2020 (you can't use the coupon for online or delivery orders). No additional purchases are necessary, though the soul will likely cry out for them.
White Castle's generosity knows no bounds. It previously offered daily free meals for healthcare workers through the month of April, and the chain is helping the planet year-round via the greatest plant-based burger on this God-given earth. And now, along with the free slider, White Castle is throwing a virtual dance party to lift our spirits and raise money for the National Restaurant Association's Restaurant Employee Relief Fund. It'll be hosted by DJ duo Dude Skywalker on the group's Facebook, YouTube, Instagram and Twitch. Grooving starts at 8pm EST on May 15.
"Normally we celebrate National Slider Day by giving away free Sliders, but these aren't normal times, so we're creating something new we think the world is craving," said Jamie Richardson, vice president of White Castle, in a press release. "This virtual dance party lets us celebrate and thank our own team members who have worked so hard serving our customers throughout this crisis."
Additionally, White Castle will be giving 20% discounts to EMTs, healthcare workers, and grocery store and food retail employees from May 15 through June 15.
Sign up here for our daily Thrillist email and subscribe here for our YouTube channel to get your fix of the best in food/drink/fun.
Ruby Anderson is a News Writer at Thrillist. Send your tips to randerson@thrillist.com.