White Claw Is Unleashing a New Line of Hard Seltzers & Flavors
New drinks for a new White Claw summer.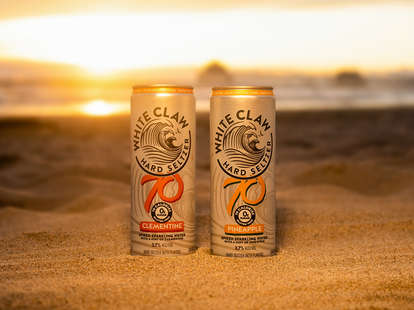 Courtesy of White Claw
Courtesy of White Claw
The crown prince of fizzy clear alcohol isn't content to simply watch you house Black Cherry-flavored booze water until the sun gives up the ghost. White Claw launched new flavors for the first time in 16 months back in March. Now, it's announcing a whole new line that, despite social distancing guidelines, it hopes ensures we're entering the Summer of Hard Seltzer Part Deux.
On May 7, White Claw unveiled a new line of low ABV seltzers, the opposite of the somewhat recently launched seltzers by Pabst and Four Loko. The line is called White Claw 70. Like New Coke before it, it's a twist on the original, but, you know, new. More importantly, it's separating itself from the old White Claw by being just 70 calories and clocking in at 3.7% ABV.
Market research firm IWSR says the trend of low- and no-alcohol drinks will grow by 32.1% by 2022. White Claw has been a big winner so far in the push to lower calorie and lower ABV drinks, and this will provide additional competition for breweries that want a slice of that pie. Breweries across the United States have been quickly launching low-calorie versions of their beers for the last year, and it's a trend that doesn't appear to be slowing.
It's not just low-ABV versions of classic flavors. White Claw 70 will only be available in two new flavors, Pineapple and Clementine. It turns out nothing can stop White Claw summer from coming back, not even closing the beaches and staying in your home. Like Christmas to the Grinch, there's nothing that can be done to stop it and you're probably going to start seeing the appeal at some point.
Sign up here for our daily Thrillist email and subscribe here for our YouTube channel to get your fix of the best in food/drink/fun.