You Can Rent the Massive Sicilian Villa from 'White Lotus' on Airbnb
The sprawling estate was featured in the latest season of the HBO Max series.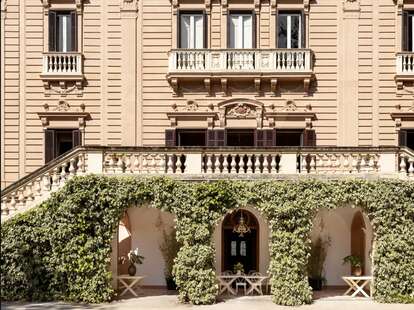 While you might not want to relive the entire White Lotus season two vacation (for obvious, murderous reasons), the opulent Sicilian villa where Harper and Daphne stayed is a whole other story. And now, you can rent it for yourself on Airbnb.
While, technically, the episode takes place in Noto (plot-wise, we mean), the four-bedroom, five-and-a-half-bath property is located in Palermo, Travel + Leisure reports. The sprawling home dates back to the 1500s and boasts massive floor-to-ceiling windows and frescos painted on nearly every wall. It's giving Italian royalty.
You'll find a billiards room, bars, and even a music room complete with a grand piano, while the exterior includes 20 acres filled with century-old trees, a citrus grove, a greenhouse, a private lake, and azure pool—which should look familiar from the binge-worthy show.
"All the glories of Italy's past—stately neoclassical architecture, trompe-l'oeil frescoes, Murano chandeliers, gilt-framed paintings—make for a sumptuous present at this Renaissance villa between Palermo and Monreale," the description reads.
The mansion (yes, I think it qualifies as one) is located just 10 minutes from Capella Palatina and includes a full staff—we're talking housekeeper, manager, butler, two room attendants, and cooking services. Now here's the part you'll need to take a deep breath for. Considering all the luxuries, it'll cost you $5,949 per night. Start saving your pennies.