Whole Foods Recalls Huge List of Prepared Food Due to Salmonella Risk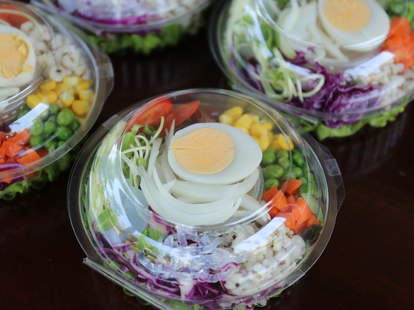 Considering the vast number of food recalls in 2018, the recent government shutdown was concerning. Foodborne illness is at best, immensely unpleasant. At its worst, it can be life-threatening and the systems that protect consumers were not doing what they needed to do. "[The shutdown] puts our food supply at risk," Deputy Director of Regulatory Affairs Sarah Sorscher said during the shutdown. Fortunately, FDA inspectors are back on the job now that the shutdown is, at least temporarily, in the rearview mirror.
Now, we can return to throwing out greens because they might contain Salmonella. Whole Foods has issued a voluntary recall for that very reason. The grocery chain has recalled dozens of pre-packaged food items in response to a recall from Satur Farms. Any Whole Food products with baby spinach from Satur Farms has a risk of carrying Salmonella, according to the FDA. Though, at this point, no illnesses have been reported from potentially tainted items at Whole Foods.
The recall impacts a laundry list of products sold across eight states, including Connecticut, Florida, Maine, Massachusetts, New Hampshire, New Jersey, New York, and Rhode Island. The list includes salads, pizzas, sandwiches, and wraps. Additionally, the notice states, if you still have anything containing baby spinach from salad bars or hot bars at Whole Foods, purchased through January 23, that should be discarded immediately.
The full list of 55 products that have been recalled can be seen at the FDA website. If you have any of these products at home, bring a receipt to the point of purchase for a refund. You can also call 1-844-936-8255 for more information. 

Sign up here for our daily Thrillist email and subscribe here for our YouTube channel to get your fix of the best in food/drink/fun.