Whole Foods' Huge '12 Days of Cheese' Sale Is Back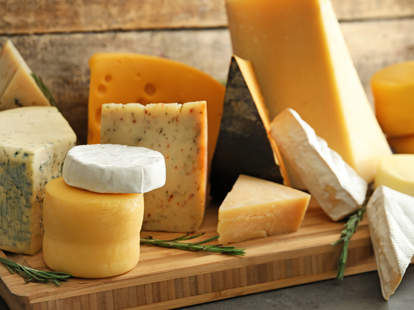 There are few foods more comforting than cheese in its various forms. Whether it's hot and melted, encasing noodles, or sliced on crackers (or by itself), there is no wrong way to eat cheese. Now, with the return of Whole Foods' 12 Days of Cheese, you can eat a whole lot more of it this winter.
Beginning on December 12, the organic grocery chain will be highlighting a new artisan cheese each day through December 23, offering the delicious dairy product at a discounted price. The cheese of the day will be 50% off for that day only. This will give cheese lovers ample chance to expand their palates without chewing through their bank account.
Amazon Prime members will get an additional 10% off the already discounted price of the day. Everyone knows the only thing better than cheese is cheap cheese.
"Our team is extremely excited to share the cheeses we've identified for this holiday season with our shoppers," Whole Foods Market's Global Executive Coordinator of Specialty and Product Innovation & Development Cathy Strange said. "We've curated a diverse and innovative selection, including several world champion cheeses and a few exclusive cheeses you can only get at your local Whole foods Market. The 12 Days of Cheese is truly a celebration of our favorite cheeses and they will each be available at an incredible value for one day only!"
Still not convinced this deal is worth the cheddar? Here's a little sneak peek of what's in store for the 12 Days of Cheese: Klare Melk Truffle Gouda, Esquirrou Petit Ossau-Iraty, Kaltbach Cave Aged Le Gruyere, Vermont Creamery Bijou, Mons Camembert, Neal's Yard Dairy Keen's Cheddar, Cypress Grove Humboldt Fog, Uplands Cheese Company Pleasant Ridge Reserve, Saxon Creamery Hika Bay, Rogue Creamery Organic Enraptured Blue, Mitica Drunken Goat, and Cellars at Jasper Hill Kombucha Willoughby.
The 12 Days of Cheese will open with Klare Melk Truffle Gouda on December 12, continuing down the list until it reaches Cellars at Jasper Hill Kombucha Willoughby on December 23. Don't forget -- these deals will only last one day, so schedule a trip to your local Whole Foods and stockpile the discounted goods while you can.
Samples will be available and Whole Foods will have Certified Cheese Professionals (why didn't I know this was a profession?!) on hand to answer any questions you may have about the cheese of the day, building a cheese board if you're feeling truly ambitious, or food and drink pairings.
You'll be a straight-up cheese snob in no time.
Sign up here for our daily Thrillist email and subscribe here for our YouTube channel to get your fix of the best in food/drink/fun.

Caitlyn Hitt is Daria IRL. Don't take our word for it -- find her on Twitter @nyltiaccc.