Whole Foods Is Offering a Free $10 Lunch on Saturday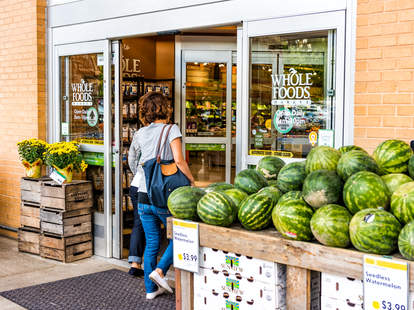 There are loads of reasons you need a free lunch this week. Authorities found your pet alligator in your yoga pants and confiscated her? Maybe you got busted driving and playing eight simultaneous games of Pokémon Go. Maybe you are just getting over the shock of discovering that people actually used to slip on banana peels in the street and get hurt. It happened!
The point is, there are a million reasons why a free lunch might be a welcome distraction. On Saturday, August 24, Whole Foods will offer just that. It is will serve up 200 free lunches at select locations. If you're one of the first 200 customers at a participating location, you'll get set up with a Whole Foods bento box designed by Will Bryant. Inside, you'll find a $10 gift card and the recipe for a quick, healthy lunch.
The gift card has to be used all at once. So, if you only spend $8 of the $10, the other $2 is just going to disappear.
The Amazon-owned grocery chain invites people to lineup between 8-9am local time at any of these locations to grab their bento box. 
Los Angeles – Downtown LA: 788 S. Grand Ave.
New York City – Tribeca: 270 Greenwich St.
Austin – Domain: 11920 Domain Drive
Miami – Davie: 1903 S. University Drive
Seattle – Kirkland: 12501 120th Ave. NE
Atlanta – Midtown Atlanta: 22 14th St. NW
Philadelphia – Center City: 2101 Pennsylvania Ave.
Boston – South End: 348 Harrison Ave.
if you aren't near one of those locations, they'll also be doling out additional freebies via Instagram beginning August 26. Even with the supposedly dropping prices since Amazon bought the chain, it's more expensive than most. So, $10 may or may not be a full lunch depending on your thriftiness and hunger levels, but even a free snack is a welcome distraction from [gestures broadly] all of this.
Sign up here for our daily Thrillist email and subscribe here for our YouTube channel to get your fix of the best in food/drink/fun.