Whole Foods Is Hosting Totally Free Six-Course Dinners In a Bunch of Cities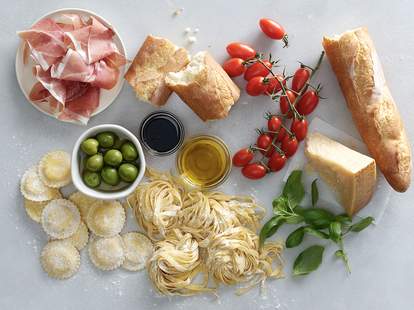 This will probably appeal to people who love to cook or can't resist an extravagant meal. However, if you can't imagine what the other five courses might be in a six-course dinner, this is a great opportunity to find out what else is involved besides "food."
Whole Foods is hosting "Italian-inspired pop-up experiences" in four US cities. The Amazon-owned store plans to open "authentic Italian 'trattorias'" on February 20 in New York City, Los Angeles, Atlanta, and Austin. Each one will only be open for a single day. Inside, you'll be served a six-course, family-style meal curated by experts from Whole Foods, as well as Italian cheese-makers and prosciutto suppliers.
The large (and free!) meal is in promotion of the grocer's Italian food selections. Whether or not you care about that part, you'll get a load of Italian food, and each course will be paired with wine, prosecco, or espresso.
The company will start accepting reservations through Eventbrite on February 13. Here are the links to get a spot: New York, Los Angeles, Austin, Atlanta. 
Here's the full menu of what will be provided, per the announcement from Whole Foods.
Aperitivo: Prosecco 
Antipasti: Large grazing platter featuring Principe Prosciutto di Parma with Specialty Italian Pairings; Mitica Asiago Aged, Sottocenere al Tartufo and Quadrello di Bufala  
- Pairing: Monterustico Bianco and Rosso  
Primo: Cacio e Pepe; featuring Genuine Fulvi Pecorino Romano and freshly cracked Parmigiano Reggiano  
- Pairing: Monterustico Bianco and Rosso  
Secondo: Beef Osso Buco with Moscato, served over Creamy Rosemary Polenta, Blood Orange Gremolata (served family-style) 
- Pairing: Criterion Pinot Grigio and Barolo 
Contorno: Roasted Cavolo Nero, Radicchio and Cauliflower; Spaghetti Squash with Sage Brown Butter and IGOR Gorgonzola Dolce; Charred Broccoli Rabe with Capers and Crushed Red Chile 
- Pairing: Criterion Pinot Grigio and Barolo 
Dolce: Blood Orange Panna Cotta with cornmeal and toasted pine nut biscotti  
- Pairing: Allegro Espresso  
Sign up here for our daily Thrillist email and subscribe here for our YouTube channel to get your fix of the best in food/drink/fun.