Whole Foods Has a New Self-Serve Mac & Cheese Bar
Although recent reports suggest Amazon's slew of price cuts at Whole Foods may not be as good as they seem, it looks like the organic grocery empire has devised a new way to lure you into its stores: a dedicated mac & cheese bar. Say goodbye to all of your money.
A new Whole Foods location at Denver's Union Station will be the among the first to feature the cheesy carb wonderland when it opens on November 15, according to a report by The Denver Post. Think Whole Foods' standard self-serve hot counters, or "hot bars," but loaded with nothing but several different kinds of mac & cheese. OK, don't think about it too much. You might get hungry, and maybe a little jealous.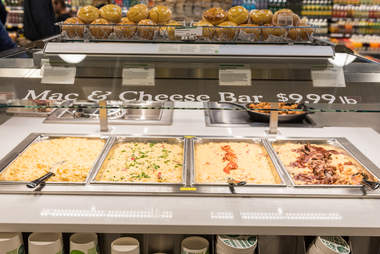 Courtesy of Whole Foods
The mac & cheese bar will span about 6 feet and feature several different kinds of mac & cheese, including roasted tomato, pulled pork, vegan, and of course, the good ol' basic kind. But with the store's other prepared food options, the custom mac & cheese flavor possibilities are wonderfully -- if not alarmingly -- endless. You may find yourself eating a $10 takeout bowl full of fried chicken mac & cheese someday. Or maybe some vegan mac & cheese loaded with kale from the salad bar, if you want to pretend you're in Brooklyn.
So far, Whole Foods has yet to say if it plans to add mac & cheese bars to other stores across the country, but seeing as it has already rolled out such things as a self-serve mochi bar and a produce butcher in recent months, it wouldn't be too surprising. In the meantime, best of luck setting a mac & cheese budget.
Sign up here for our daily Thrillist email and subscribe here for our YouTube channel to get your fix of the best in food/drink/fun.

Tony Merevick is Senior News Editor at Thrillist and hasn't had mac & cheese in an embarrassingly long time. Send news tips to news@thrillist.com and follow him on Twitter @tonymerevick.