Whole Foods Is Paying $500,000 to Settle That Overpricing Scandal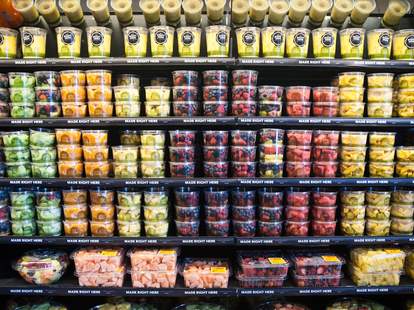 A little over six months after NYC's Department of Consumer Affairs (DCA) accused Whole Foods of "systemic" overcharging of customers for pre-packaged foods, the organic grocery chain said it has agreed to pay the city $500,000 in a settlement, so it can finally tuck the scandal away in the brown paper bag of history. 
In an statement, Whole Foods said, "While WFM refused to consider the DCA's initial demands of $1.5 million, we agreed to $500,000 in order to put this issue behind us so that we can continue to focus our attention on providing our New York City customers with the highest level of quality and service."
Along with the hefty fine, the company has also agreed to carry out quarterly in-store price audits of at least 50 products from 10 different departments at all of its NYC stores, and to create new policies and trainings for all of its store employees in the city to ensure products are weighed, labeled, and priced accurately. Additionally, should DCA inspectors discover products that are mislabeled, Whole Foods will be required to remove the products and conduct an additional pricing audit within 15 days, according to a press release from the city agency.
But Whole Foods fired back, saying it already implemented procedures to ensure customers are not overcharged.
"Unfortunately the DCA has misrepresented this agreement," the company stated. "WFM has had in place preexisting pricing and weights/measures programs including a third party auditing and training program and a 100 percent pricing accuracy guarantee that gives customers a full refund on any item inadvertently mispriced. These are pre-existing programs that go above and beyond the DCA's requirements."
In the weeks following the damning charges this summer, Whole Foods' co-CEOs Walter Robb and John Mackey finally came out and apologized to customers who were overcharged, saying, "Straight up: We made some mistakes, we want to own that, and tell you what we're doing about it... Sometimes the mistakes are both in the customer's favor, and sometimes not in the customer's favor." 
While the settlement ends the DCA's investigation, the agency said it will continue to hold Whole Foods -- and other businesses in the city -- accountable.
"After discovering the troubling and repeated mislabeling of pre-packaged goods at Whole Foods last year, we are happy to have reached an agreement with Whole Foods that will help to ensure New Yorkers are better protected from overcharging," said DCA Commissioner Julie Menin in a press release. "Whether it's a bodega in the Bronx or a national grocery store in Manhattan, we believe every business needs to treat its customers fairly and, with this agreement, we hope Whole Foods will deliver on its promise to its customers to correct their mistakes."
Sign up here for our daily Thrillist email, and get your fix of the best in food/drink/fun.
Tony Merevick is Cities News Editor at Thrillist and, relatedly, needs to go grocery shopping because his fridge is empty. Send news tips to news@thrillist.com and follow him on Twitter @tonymerevick.