Whole Foods Is Running a Flash Sale on Prosecco & Wine for New Year's Eve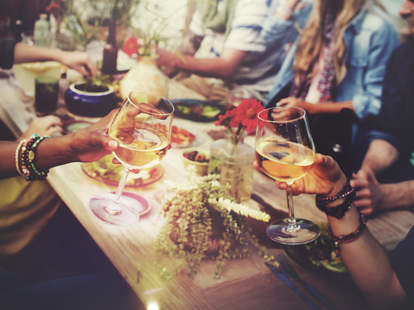 Everyone is filled with high hopes for the new year. New opportunities are surfacing and you'll definitely change your deeply ingrained habits with just a couple of days notice. Easiest thing in the world. That's why everyone sends out the old year with a party to make sure you'll spend the first moments of the new year working off the consequences of decisions made last year. There's plenty of time for those resolutions later in the year.
To help you get the party part out of the way, you're going to need something to imbibe, like a boatload of prosecco for that midnight toast. To help you with those last-minute plans for New Year's Eve, Whole Foods is offering enticing discounts on prosecco and specially selected wines.
The deal offers shoppers 20% off any wine or bubbly on the list of Whole Food's Sommelier Best in Class Holiday Wines, which were unveiled back in November. Those wines will be made available at the discounted price on December 29-31. That list of 24 wines includes Presto Prosecco and Presto Sparkling Rosé, which look like a solid NYE option.
Here's the full list of what's available in the sale.
Adelsheim Pinot Noir
Cala Cabernet Sauvignon
Cave de Rasteau Les Peyrières Rasteau Rhone
Cloudveil Pinot Gris
Criterion Sauvignon Blanc
De Chanceny Brut Crémant de Loire
De Chanceny Brut Rosé Crémant de Loire
Frey Sun & Rain Organic Chardonnay
Georges Duboeuf Beaujolais Nouveau Rosé
Georges Duboeuf Beaujolais Nouveau
Giné Giné Priorat D.O.Q.
Grace Hale Sparkling Sauvignon Blanc
Innovación Malbec-Syrah Rosé
Jacques Bardelot Champagne Brut
Jacques Bardelot Champagne Brut Rosé
J. Lassalle Champagne Brut Premier Cru
Les Pierres Grises Saint-Véran
Madame Liberté Brut
Madame Liberté Sparkling Rosé
Poggio Anima Belial Sangiovese
Presto Prosecco
Presto Sparkling Rosé
Rombauer Sauvignon Blanc
Upper Left Merlot
Even if you have your NYE prep done, it's never a bad idea to have a little extra prosecco available. It won't go to waste.
Sign up here for our daily Thrillist email and subscribe here for our YouTube channel to get your fix of the best in food/drink/fun.