Why Do Gymnasts Wear Socks?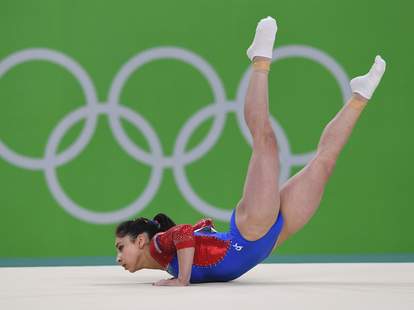 Watching Olympic gymnastics at Rio, you might notice that some of the athletes are wearing socks. It's not just you, it wasn't always this way. Think back to athletes like Dominque Dawes, Shannon Miller, Paul Hamm, or Dominique Moceanu. All performed floor routines barefoot. So why are Olympic gymnasts starting to wear socks? Is it because of toe fungus and gymnasts from New Zealand having hobbit feet?
While those theories have merit at the local Y, socks at Rio are all about performance. Socks "give you a better grip on an apparatus (kind of like chalk)," keep sweaty feet from becoming slippery, and, "help gymnasts get turns around on floor," according to The Gymternet. Others wear socks like Sole Impact Socks to help absorb some of the forceful impact routines can have on the soles of athletes' feet.
They're predominantly seen in floor and beam routines, and will come in different styles and specifications, with most looking a bit like ballet slippers or ankle socks. While many still perform barefoot, there's a wide variety of footwear from some that look more like slippers than socks to a sort of half sock exposing the heel and toes.
That's it. Less the possibility of secret shame over hobbit feet (don't hide your natural advantage), it's all about performance for gymnasts wearing socks.
Sign up here for our daily Thrillist email, and get your fix of the best in food/drink/fun.
Dustin Nelson is a News Writer with Thrillist. He sometimes wears socks to bed. Follow him @dlukenelson.