IHOP Says It's Changing Its Name to IHOb and Everyone Is Laughing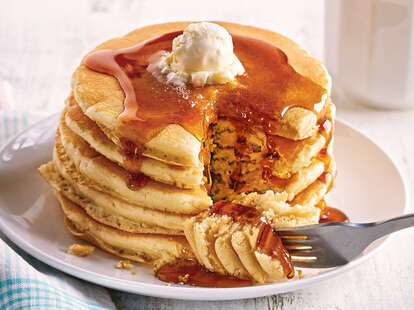 IHOP made a surprising announcement Wednesday. The House of Pancakes tweeted that it will soon change its name. "For 60 pancakin' years, we've been IHOP," IHOP said. "Now, we're flippin' our name to IHOb."
Yes, IHOb. At first, it sounds like someone can't remember the Captain's name in Moby-Dick. It doesn't exactly roll off the tongue. It'd not clear what the reason is for the change, but IHOP says there is a reason. You just won't find out until June 11 when it reveals what the "b" stands for.
Speculation about the "b" was instant. Popular guesses have included breakfast, burgers, and bacon. Though, to get that far, you probably had to already know that IHOP stood for International House of Pancakes. It became clear on Wednesday that not everyone knew IHOP was an acronym.
"We're serious about the quality of food and our menu, and this name change really reflects that," Stephanie Peterson, IHOP's executive director of communications, told the USA Today. The breakfast hub seems to be taking the change seriously, even if it sounds more like the kind of change that will last for a week and some promotion about bacon. But that serious tone isn't something you'll find on social media. The pending change has spent the day as fodder for jokes ranging from speculation about IHOP's "b" to the logo bearing a striking similarity to the logo of a popular tampon brand.
Breakfast would make a lot of sense, and IHOP maybe hints that's where things are going with this reply after they shot down some other ideas early in the day. Either way, you'll brobably still be able to order pancakes at the new IHOb.
Sign up here for our daily Thrillist email and subscribe here for our YouTube channel to get your fix of the best in food/drink/fun.

Dustin Nelson is a News Writer with Thrillist. He holds a Guinness World Record but has never met the fingernail lady. Follow him @dlukenelson.