Finally, Facebook Explains Why There's No 'Dislike' Button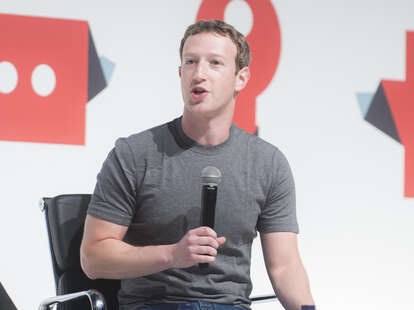 <a href="http://www.shutterstock.com/gallery-790384p1.html?cr=00&amp;pl=edit-00">catwalker</a> / <a href="http://www.shutterstock.com/editorial?cr=00&amp;pl=edit-00">Shutterstock.com</a>
Sure, you've got all those fancy "reaction" buttons now on Facebook. But there's one big thing everybody wanted that's still not there: the 'Dislike' button. But there's an explanation, straight from the mouth of Mark Zuckerberg.
The Independent published a quote by Facebook's creator that sheds light on why the guy didn't just make a "dislike" button rather than all these "reaction" buttons. The comment the recent Facebook announcement of the "reactions" reads as follows:
"Not every moment you want to share is happy, Sometimes you want to share something sad or frustrating. Our community has been asking for a dislike button for years, but not because people want to tell friends they don't like their posts. People wanted to express empathy and make it comfortable to share a wider range of emotions."
It seems like Zuckerberg is saying that these "reaction" buttons better address the needs of Facebook users than a "dislike" button because they express "a wider range of emotions." And certainly the "sad" and "angry" reactions can be used just like a "dislike." In summary, "reactions" are what the people wanted, and then some.
A quote from designer Geoff Teehan echoes these sentiments: "Binary 'like' and 'dislike' doesn't properly reflect how we react to the vast array of things we encounter in our real lives."
True, but people will still complain until they get an actual "thumbs down." In the end, you can't please everyone. But now, you can at least "Wow" and "Angry" them.
Sign up here for our daily Thrillist email, and get your fix of the best in food/drink/fun.
Kara King is a News Writer at Thrillist and still wants to "dislike" things. Send news tips to news@thrillist.com and follow her at @karatillie.