Roaming Goats Galavant Through Town Under Coronavirus Lockdown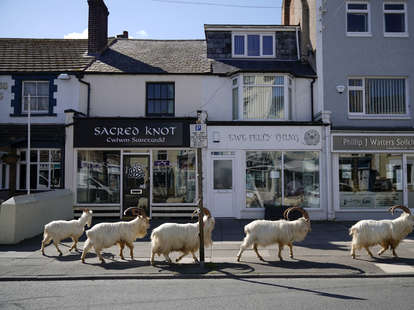 Christopher Furlong/Getty Images
Aside from being stout-bodied and hollow-horned, goats are just like you and me. They want to be free, to run about town in the wee hours of the night with their tribe of bearded hooligans--especially if they're of the British variety. Don't believe me? See for yourself, with these hilarious videos capturing ruthless Billies rioting through a coastal town in north Wales.
On March 26, Twitter user Andrew Stuart posted a series of videos from a town called Llandudno, capturing a group of not-so-socially-distant goats occupying the streets. The first clip, captured from a pub he says he "live[s] in currently," shows a tribe of nine trotting down a vacant road. The second clip shows them nibbling on hedges anarchistically.
The Welsh government has imposed a lockdown on Wales to reduce the spread of COVID-19, but wild goats can't read, and anyway, they lack the brain structures required to reflect on the societal repercussions of inadequate social distancing.
This particular herd of Kashmiri goats has paid visits before. Stuart wrote in one of his posts that the herd ventures down to Llandudno from the Great Orme, a limestone headland on the coast, when it gets too windy. But he noted that they usually keep to back streets on one particular area.
"Now lockdown means it's empty, they're going further than ever," he said.
Town councilor Carol Marubbi told the BBC that she suspects an absence of people milling about town has attracted this motley crew.
"They are curious, goats are, and I think they are wondering what's going on like everybody else," Marubbi said.
Now, back to the eye-catching statement Andrew Stuart made in his original Twitter post: "I think I just got a group of goats in Llandudno arrested." Later in the thread, Stuart included a video of a patrol car responding to his call to the police, but no arrests were captured on screen.
In fact, the goats returned on March 28, in broad daylight, to flaunt their furry freedoms.
And they were back again on March 30, as a personal insult to Welsh authorities and a fundamental threat to democracy.
Sign up here for our daily Thrillist email and subscribe here for our YouTube channel to get your fix of the best in food/drink/fun.