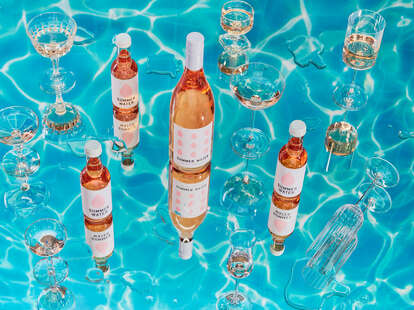 Courtesy of Winc
Courtesy of Winc
I know that summer might, technically, be a few a months out, but the warm weather and this hectic year are reason enough to start celebrating—and drinking—accordingly. Especially now that Winc's bringing back its seasonal rosé subscription.
Summer Water Societé, a four-month membership experience that kicks off just in time for rooftop season every year, brings you shareable and even limited-edition rosé bottles through Winc's straight-to-your-door deliveries.
"As for the wine itself, it's damn good. Not only is it delicious, but it's vegan, low-sugar, eco-friendly, and guaranteed to bring sunshine," Winc said in a statement to Thrillist. "With notes of orange peel, pink grapefruit, strawberry, and watermelon, it's perfectly crisp and right on time for a summer day. I personally love it because it is such a light, not-too-sweet rosé perfect for an afternoon by the pool or happy hour drink!"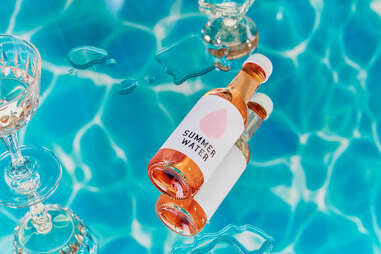 This year, however, is going to look a little different. Why, you might ask? Winc is pulling off something extra special, so you can "sip through the centuries." Members will snag four shipments with rosé celebrating 1821 through 2121. Between Memorial Day and Labor Day, you'll snag Summer Water, Droplets, and Keep it Chill bottles for just $89 a month. Enrollment opens up now and ends May 13, so you'll wanna hop over to the site and claim your booze before it's too late.
"For its fifth year, Societé members are invited to sip through the centuries for an imaginative spin on summer travels," the statement continued. "Winc will take you back in time to enjoy the rise of rosé the Victorian way. Droplet in on the Roaring Twenties in top-secret fashion. Take a pit stop in pandemic life pandemonium-free. And top off the season with a never-before-seen glimpse into the future."
Megan Schaltegger is a staff writer at Thrillist.