Pilot Landing in Nor'easter: 'Pretty Much Everyone on the Plane Threw Up'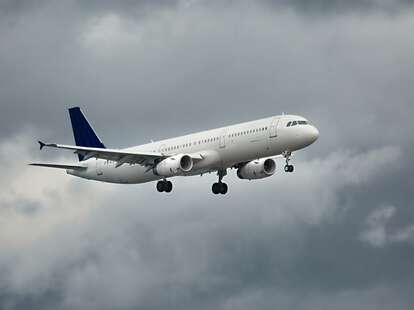 shutterstock
shutterstock
Flying is maybe the greatest way for humans to feel collective misery. Planes randomly ignite on the runway, toilets overflow, and the occasional lunatic will use the main cabin in lieu of toilet paper. Another recent flight adds to the litany of terrible experiences in the sky, though, and it involves a cabin full of vomit.
So far, it's unclear which airline was operating the plane, which landed at Dulles International in northern Virginia on Friday morning. According to a pilot's report, the plane encountered severe turbulence upon descent, turning the journey into a motion-sickness merry-go-round in which nearly everyone onboard threw up.
As the pilot dutifully noted: "Very bumpy upon descent. Pretty much everyone on the plane threw up."
Wedged into this diagram is another useful anecdote: the pilots almost threw up, too.
The aircraft is a CRJ-200, which normally houses 50 passengers, according to NBC News. This means about 50 people spewed their guts at the same time. People paid to board this flight. Can you imagine the stench? Thankfully, there were no reports of injuries. The passengers will likely be scarred from this episode forever, though.
The rocky descent was caused by a severe Nor'easter brewing along the eastern seaboard, which is already causing power outages in coastal Massachusetts. High winds have been reported in the Washington, DC and Virginia area, and even forced a temporary ground stop at Dulles when air traffic controllers had to evacuate an air traffic tower. More than a dozen flights departing the airport were cancelled on Friday, and at least one entering the airport was awash in human sick, as we know.
Safe travels, folks.
Sign up here for our daily Thrillist email and subscribe here for our YouTube channel to get your fix of the best in food/drink/fun.
 
Sam Blum is a News Staff Writer for Thrillist. He's also a martial arts and music nerd who appreciates a fine sandwich and cute dogs. Find his clips in The Guardian, Rolling Stone, The A.V. Club and Esquire. He's on Twitter @Blumnessmonster.