If you need to project being very serious about wine while still being a very silly person, it's a damn fine day to be you. This is the day you discover the Glass Mask. All these years you've been trying to shove a triangle peg (your face) into a circle hole (a wine glass). But no more!
The Glass Mask is a wine glass that's contoured to the shape of your face or at least something closer to the shape of your face than a standard wine glass. That shape allows you to really get deep into that glass of Carlo Rossi and smell the... is... is that sugar?
Recommended Video
Please Don't Hang Up: The Best Things to See, Eat, and Do in Portland, ME
Glass Mask / James Piatt
Getting a big whiff of what you're drinking is a part of the game with wine and Glass Mask is all about helping you get up in it. Not only does it more perfectly contour to your face, a pair of venturi nozzles in the glass allow for increased airflow as you breathe in, bringing that boozy bouquet right into your nose holes. 
Inventor and industrial designer James Piatt tells Thrillist, "This concept, to me, is interesting because it actually works, improving the taste of wine while also making you look and feel a little silly or sinister like the Frank Booth character in Blue Velvet."
Glass Mask / James Piatt
Piatt hopes to fund production on Kickstarter, where the project still has two weeks to hit its goal. Over the first stretch, the project has raised just $1,953 of the lofty $78,000 goal. It's an ambitious project, but the early bird price on glasses is just $15, which isn't outrageous even if it winds up being a bit more of a novelty glass than a true game-changing invention.
Plus, now that you've realized you can recite Dennis Hopper lines from Blue Velvet while drinking wine (or PBR, it's your glass), it seems like a real steal.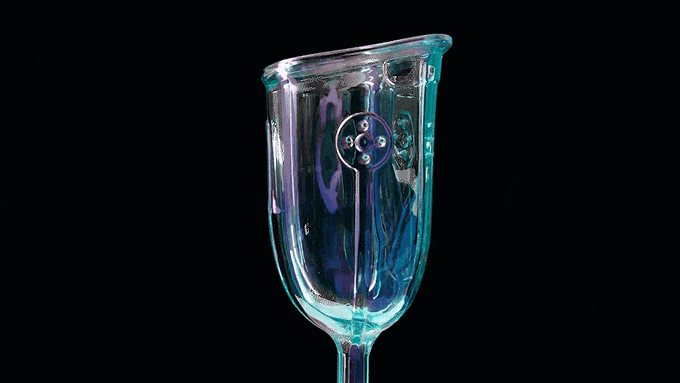 Glass Mask / James Piatt
Sign up here for our daily Thrillist email, and get your fix of the best in food/drink/fun.