Wine Has More Alcohol Than You Think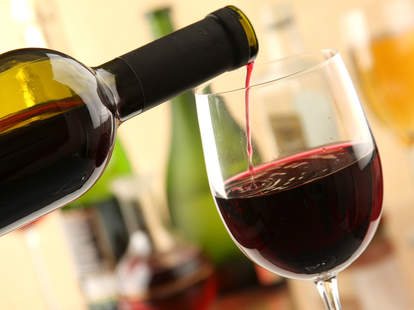 Wine puts up a classy front. But, according to new research, that red, and that white, have a dirty little secret: they've got more booze in them than they're telling you.
A new study published in the Journal of Wine Economics has confirmed that wineries may be bending the truth on just how much alcohol is in that bottle. Researchers looked at data collected from The Liquor Control Board of Ontario, which included more than 100,000 observations of wines tested between 1992 and 2009. They measured the advertised alcohol levels in wine by volume, against the actual alcohol levels. 
The data showed that close to 60% of wine samples had a higher alcohol content than what was advertised. On average, the alcohol content was about 0.39% higher in Old World wines and 0.45% higher in New World wines. But, some wine regions showed larger discrepancies than others. For example, Chilean reds and whites, Spanish reds, and American whites, were among the wines with the largest margin of error. 
When asked about the results, the head researcher, Professor Julian Alston, told The Telegraph, "A discrepancy of 0.4 percentage points might not seem large relative to an actual value of 13.6 per cent alcohol by volume, but even errors of this magnitude could lead consumers to underestimate the amount of alcohol they have consumed in ways that could have some consequences for their health and driving safety," That's absolutely true, since no one wants to play a guessing game with their BAC. So why don't people just label the wines more accurately? Well, the writers of this study suggest that it could be advantageous for wineries to lie about alcohol levels due to market preferences and taxes. 
So don't rely on the label to guide you, and maybe don't drink the whole wine keg. Hopefully, you haven't been drinking the whole wine keg.
Sign up here for our daily Thrillist email, and get your fix of the best in food/drink/fun.
Kara King is a News Writer at Thrillist and wants a wine keg right now. Send news tips to news@thrillist.com and follow her at @karatillie.