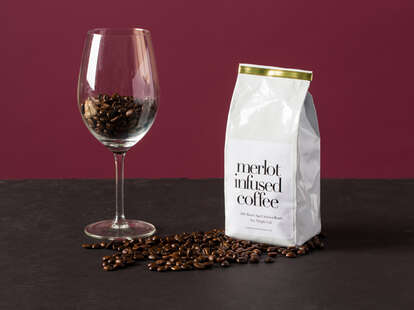 Most people's days have two phases: coffee and wine. How you choose to sequence those drinks dictates your employability -- unless you're a sommelier or filthy rich.
But with this merlot-infused coffee, you don't ever have to choose.
Produced by Orange County Coffee Roasters and for sale on Uncommon Goods, Merlot Infused Coffee is just what it purports to be: coffee beans infused with merlot. The Virginia-based coffee roasters got the idea of infusing roasted coffee beans in wine barrels while visiting local wineries, which birthed the very product you see pictured here.
What does it taste like, though? Glad you asked.

Upon opening the 12oz bag of beans, you catch a familiar whiff, but one you can't quite connect to a specific memory. It's sort of like the checkout line at a department store the week of Christmas: a melange of known smells rolling up into one megasmell. This one hits you with nodes of berries, followed by coffee and a hint of standing inside a chocolatier.
The brew smells quite the same, with an increased grape presence; nobody could name the exact strain of grape smell, but we eliminated the purple Mr. Sketch marker, grape Jolly Ranchers, and Welch's grape juice. The fruitiness of the fresh-brewed coffee can't be understated; it's a full berry bloom. For me, it smelled just like the sacramental "wine" my church served when I was an adolescent. That is: non-Welch's grape juice.
Fortunately, sipping this coffee doesn't involve Charley horses from my brother or falling asleep during the sermon; quite the opposite, given that caffeine wakes me up. Overall, the brew tastes far milder than it smells, which to a Merlot philistine, pleasantly surprises. The fruitiness offsets the bitterness you may expect from a stronger brew. I drank it sans sugar or cream of any kind.
The verdict
Most of my coffee is utilitarian in nature, as I'm an office worker (granted, one who gets to buy and try weird coffee beans). And, yes, here's the requisite Sideways reference: Paul Giamatti and I differ in that he's anti-Merlot, while I'm apathetic. I'll drink it if it's what's there, but I'd opt for a Tempranillio, given my red wine druthers.
Now that you've got my full coffee and wine preferences spelled out: the Merlot-infused coffee tastes better than expected. While bursting with fruity grapeness in smell, the flavor comes out more subtly. In fact, the berry infusion neutralizes the bitterness that non-coffee fans often cite as the reason for not drinking coffee. Oh, and no, it doesn't contain alcohol. So no pulling a fast one on your boss. You'll just have to stick to Irish coffee like the rest of the world.
Overall, Merlot Infused Coffee tastes smooth, but makes you feel like you're inhaling perfume while sipping. I wouldn't go out of my way to buy a wine-infused coffee, but it could certainly make a unique gift for the wine-lover in your circle, and if nothing else, it's worth a shot as a conversation point for a dinner party.
If you're interested in getting your hands on 12oz of Merlot-infused beans, you can do that right here.
Sign up here for our daily Thrillist email, and get your fix of the best in food/drink/fun.
Ryan Craggs is Thrillist's Senior News Editor. He'll stick to keeping his wine and coffee separate. Follow him @ryanrcraggs.