Wingstop Has Released Whole Wings So You Can Get Drums and Flats All at Once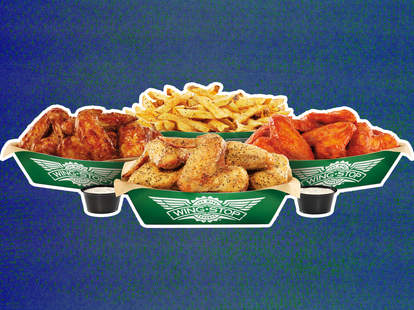 Edited - Courtesy of Wingstop
The age old question -- drums or flats? -- is divisive. Would you rather have flats, which can get crispier and are easier to clean the whole wing off? Or drums, which are fun to dive into with caveman-like enthusiasm? Why not both?
Like yin and yang, wing parts can coexist in harmony. Wingstop is aware of this, which is why the brand has announced the release of whole wings so you can have it all. Gone are they days where you'll have to devour 18 wings to feel a glimmer of satisfaction. Instead, the giant wings are available in a limited time Full Flavor Fix deal that won't leave you hungry. For $17.99, you'll get 15 whole wings in three flavors of your choice (might I suggest lemon pepper?), a large order of seasoned fries, and two dips -- so you can have honey mustard and ranch. It's a feast fit for even Rick Ross.
The whole wings can't be purchased outside of this bundle, so gather your friends to your local Wingstop and be prepared to feast while you watch whichever sports are in season right now. This limited time deal only runs until November 9 so make sure to get your simultaneous drum and flat fix while you can.
Sign up here for our daily Thrillist email and subscribe here for our YouTube channel to get your fix of the best in food/drink/fun.
Kat Thompson is a staff writer at Thrillist. Follow her on Twitter @katthompsonn.