Wingstop Has a New 'Blazed & Glazed' 4/20 Flavor That Will Enhance Your High
The Blazed & Glazed wings will be available from April 18 through April 22.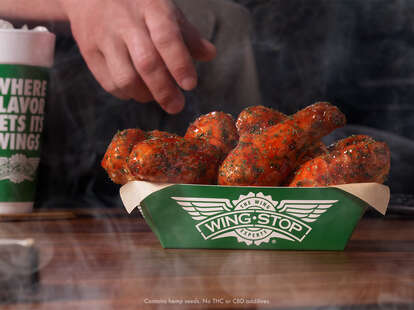 Courtesy of Wingstop
Courtesy of Wingstop
Ah, 4/20, or as I like to call it, Seth Rogan's Christmas, is an excuse to ditch your typical dinner plans for an edible and a smorgasbord of snacking essentials. And while the actual holiday falls on a Wednesday this year, why not celebrate the entire week? Especially now that Wingstop has released an all-new flavor that's designed to enhance your high.
The wing slinger's weed-inspired Glazed & Blazed flavor was crafted with hemp seeds, terpenes, and strawberry and cayenne pepper to capture notes reminiscent of the holiday while still keeping things legal and even leaves a mouth-tingling sensation.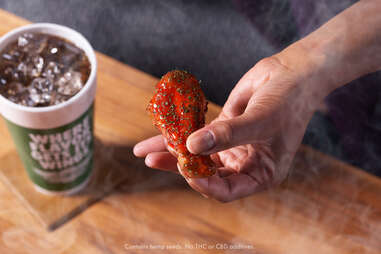 "Some of our biggest fans aren't just pairing their favorite wings with seasoned fries," Chief Growth Officer Marisa Carona said in the press release."And while many brands are starting to give a nod to 4/20, we're going higher than ever this year by dedicating an entire flavor to it. As the cannabis industry grows, so does Wingstop's desire to engage this audience."
Though Wingstop is no stranger to weed culture (their words, not mine), it is the first year they've created a dedicated flavor for 4/20. The Blazed & Glazed flavor is available beginning Monday, April 18, through April 22 at locations nationwide and the brand's official food truck, which will be parked at Hippie Hill in San Francisco's Golden Gate Park on April 20. BYOJ(oint).